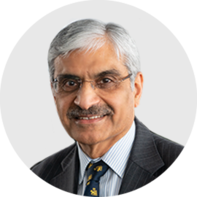 Dr. Tahir Mahmood
Obstetrician and gynecologist, Victoria Hospital, Chair of EBCOG standards of care, UK
Work Experience: 30+ years in obstetrics and gynecology
"Technology has given us a better opportunity to reach those areas of the world where perhaps modern medicine would not have been accessible. Regardless of location, everyone deserves access to high-quality medical care."
Career Highlights
International Consultant to UNFPA for Eastern Europe and Central Asia (EECA) Region and Senior Clinical advisor NIHR National Audit of Urinary Incontinence in the UK, 2016–present
Chair of European Board and College of Obstetrics & Gynaecology (EBCOG) Working Party on Standards of Care, 2010–present
Consultant OB-GYN at Victoria Hospital and Clinical Senior Lecturer at the Universities of Edinburgh, Dundee, and St. Andrews, Scotland, 1990–present
President of EBCOG, 2014–2017
Vice President of Standards at the Royal College of Obstetricians and Gynaecologists
Appointed Commander of the Order of the British Empire (CBE) by Queen Elizabeth II for his services in women's health, 2012
Member of the Royal College of Obstetrics and Gynaecologists, Edinburgh Obstetrical Society, Northern Obstetrical & Gynaecological Society of Scotland, Royal College of Physicians, SIGN Council, American College of Obstetricians & Gynecologists, and Life Trustee of Lindsay Stewart R&D Foundation at the Royal College of Obstetricians & Gynaecologists
Serves on the editorial board for several key journals in obstetrics and gynecology
Edited eight books and published over 190 peer-reviewed papers
Delivered over 185 lectures around the globe
Education
Earned a long list of academic titles and recognitions throughout his career, including MBBS, BSc, MD, FRCPI, FFSRH, MBA, RACOG, FRCPE, FDGGG, FEBCOG, and FRCOG
Featured Publications
Obesity and Obstetrics. 2nd ed., Oxford, Elsevier, 2020.
"EBCOG position statement: Inequality in fertility treatment in people of colour." European Journal of Obstetrics & Gynecology and Reproductive Biology, vol. 266, 21 Sep 2021, pp. 74-76, doi: 10.1016/j.ejogrb.2021.09.021
"Clinical Standards in Obstetrics and Gynaecology." Professional Development Skills for Obstetricians and Gynaecologists. Cambridge, Cambridge University Press, 2018.
"FIGO's response to the global challenge of hyperglycemia in pregnancy — toward a global consensus." Gynecological Endocrinology, vol. 34, no. 1, Oct 2017, doi: 10.1080/09513590.2017.1381682
"Non-oral contraception." Obstetrics Gynaecology & Reproductive Medicine, vol. 27, no. 5, Apr 2017, doi: 10.1016/j.ogrm.2017.03.001
My Journey in Medicine
Over the past 30 years as a gynecologist, I have been involved in the care of thousands of women and mothers with many different conditions, such as menstrual disorders, cancer, chronic pelvic pain, and infertility. Their experience with my treatments has led to great learnings throughout my career. Helping my patients and touching so many lives has been an incredibly gratifying experience. There are no words to describe the feeling of seeing the joy on a mother's face after giving birth to her child.
The science of women's health is changing rapidly, as are the needs of the patient population. Developments within information technology have made a plethora of information available, so it's important to remain abreast of new discoveries in order to offer high-quality care to all women and their families who come to see me.
I stand for the right of women to access high-quality health care wherever they live, and this passion has encouraged me to get involved in advocacy roles with the EBCOG and UNFPA. I have also led initiatives to improve the quality of care within Europe.
It is a pleasure to work with the friendly team at Flo, which is so driven to care for the health of young adults and women. Flo has made huge progress and contributions to scientific research over the past few years, including its groundbreaking work on polycystic ovary syndrome, and I look forward to what's to come.
Fun Facts
In my free time, I enjoy reading the latest medical journals and walking in the English countryside (weather permitting!).
Flo Advisory Board of 100+ Doctors, Scientists, and Health Experts
We break down complex medical topics into accessible and digestible information that empowers readers to take action and prioritize their own well-being. Our team of Medical and Scientific Advisors is made up of over 100 certified health experts from a variety of disciplines who ensure that every piece of content we release is medically accurate, understandable, and up-to-date with the latest scientific findings. We rely on medical guidelines from international health organizations and get information from academic institutions and peer-reviewed articles, which is fully described in our Flo Editorial Process and Standards.