There is no set timeline that you should follow for the transition to toddler bed from the crib. Each baby will want to move on their own time — when they feel that it is right to venture out and claim more space than the crib.
You should, therefore, be watchful for the signs that your little one wants to spread their wings a bit. You need to be especially watchful from when your baby is anywhere from one and a half to three and a half years old.
There are two particular instances that might point to a need to switch from the crib to the big kid's bed. These include:
When the crib is no longer safe
When your little one asks for a new bed
When a crib is no longer safe
When your young one begins to toddle, they want to go everywhere. Before, you would probably put them in the crib so that they can stay there and get some sleep and rest.
Now, however, they're taller and cleverer than before. Your child can now climb over the railings on the side of the crib. They might clamber out and go wherever they want around the house.
However, even though your child can climb over the railings of the crib, it's not always safe to do so. Your child can easily tumble over, falling and becoming injured. So, if your child is climbing over the crib and at risk of getting hurt, it's a good idea to let them transition to a big kid bed to freely get in and out without any hurdles.
A crib is also small and might pose problems if your baby tosses and turns during deep sleep. The sides of the crib present the opportunity for injury if your child rolls across the small expanse of the crib in their sleep and runs into them.
If a child asks for a bed
There does come a time when the child herself asks for the transition to the bigger toddler bed. The crib can feel a bit cramped as the child continues growing and becomes taller. A bigger toddler bed will offer more comfort during sleep. It also affords a certain level of independence that will make your toddler feel better.
Now that we know when to move to a toddler bed, here is how you can make the new sleeping area safe.
When transitioning from crib to bed, it's important to prioritize safety, because toddlers are curious and bound to explore every inch of their new environment.
First of all, you have to find the right spot in the room to place the new 'big kid' bed. Ensure that it isn't close to a heating radiator, lamps, draperies, or blind cords, all of which pose different dangers to your toddler.
Ensure that the headboard is flush against the wall so that the baby can't fit into that space. Leave some space on the sides so they don't rub against the cold wall while sleeping.
If you're worried about your child falling off the side of the bed, you can place a plush carpet, rug, or pillows on the floor to can break their fall. As your child grows older, they'll develop better sleeping habits so this won't be an issue.
As a toddler, your little one will be a very curious creature. Ensure that the small parts of the new bed are tied down to limit accidents. You should regularly check the nuts, bolts, screws, and joints that hold the bed together to ensure that they are not loose.
When you're sure that your toddler's new sleeping area is safe, you can also rest assured and avoid a bad night's sleep.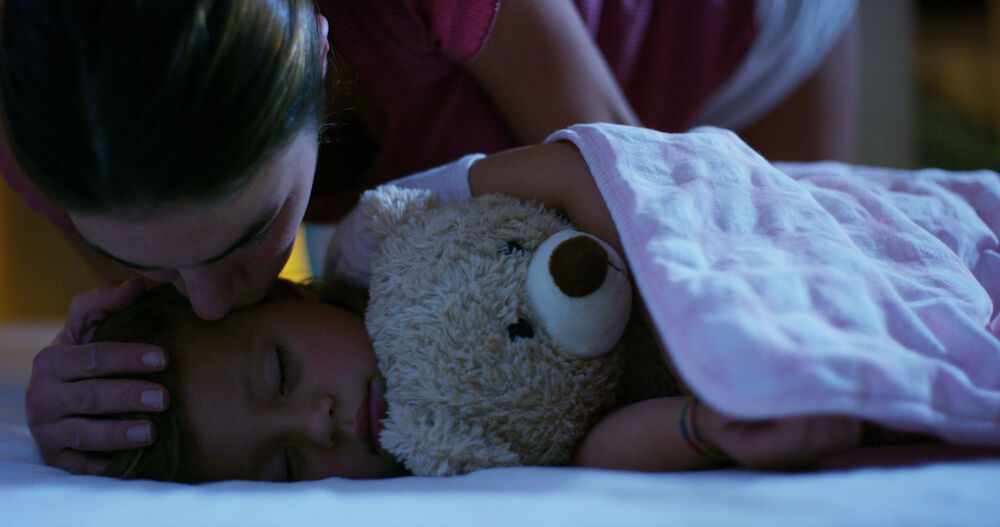 If you've finally decided when to switch to a toddler bed, you might want to be prepared for some resistance from your baby. Despite wanting a new bed, the actual change can be quite unexpected. It's important to handle the transition to a toddler bed as gently as possible.
Here are some ways through which you can make the transition as smooth as possible:
Time the transition to a big kid bed just right so that it doesn't coincide with other big life changes, like the arrival of a new sibling. This will ensure that your toddler isn't overwhelmed.
Use a convertible crib that can unfold into a regular-sized kid's bed. This will limit the extent of the change for your toddler.
Involve your child in the action so that the bed doesn't feel foreign once bedtime arrives. For example, you could let them choose the sheets for the bed.
Try not to change the bedtime routine. If you have been breastfeeding before bedtime, carry on doing so before bed to can calm them down before sleep.
Be patient. This is a big change, and your toddler will probably escape from their bed every now and then to get into yours before finally becoming comfortable enough to sleep all night in their own bed.
While there's no specific age when it's right to transition to a toddler bed, there are some signs that you can look for that will let you it's time to make the switch. Before making the transition, ensure that the new sleeping area is safe for the baby. This is a significant change in your toddler's life and you need to make the transition as smooth as possible.