As your baby's palate becomes more adventurous, it's important for you to consider what to feed them at this age to ensure a wholesome diet.
10-month-old baby food list: what's best and what to avoid
Ideal foods:
Vegetables: Soft-boiled, mashed vegetables such as carrots, peas, and green vegetables are a great source of vitamins and minerals.
Fruits: Encourage your baby to eat fruits like bananas and pears that are mashed or cut into small pieces
Infant cereal: Iron-fortified infant cereal is a good idea. Options include oats, barley, wheat, or a mix of these cereals.
Starches: Mashed potatoes, macaroni, and soft-boiled pasta will are all good options.
Proteins: Small pieces of meat, tofu, and properly cooked beans are good sources of protein to support growth and development.
Dairy products: Soft cheeses, yogurt, and cottage cheese will encourage the healthy growth of bones and teeth.
Foods to avoid:
Raw vegetables and whole fruits: Raw veggies can be hard and difficult for babies to chew, while whole fruits such as grapes can pose a choking hazard. It's best to boil vegetables until they are soft and cut up fruits into small, bite-sized pieces.
Dried fruits and nuts: Nuts are both hard and small, and they may be a choking hazard to your child. These are best avoided at this age.
Packaged, sugary snacks: Packaged foods such as cookies and cakes are highly processed and contain high amounts of added sugar and saturated fats. They are generally unhealthy, as well as harmful for your baby's teeth.
High salt foods: Overly salty snacks can put burden on your baby's kidneys. Minimize the amount of chips, bacon, and cheeses given to your child.
Hard snacks/candy: Hard foods such as popcorn and candy should be avoided as they can be a choking hazard.
Honey: It is a good idea to avoid honey at this age, as it may cause a rare illness called infant botulism.
Cow's milk: Ideally, you should wait until your baby is 1 year old before introducing cow's milk. At 10 months, babies are not yet able to digest cow's milk well.
It's important to keep in mind that apart from the foods mentioned above, your baby should still have a regular diet of breast milk (or formula, if they're weaned off breastfeeding). At this age, the introduction of solid foods is to supplement the existing diet of breast milk or formula.
What's the right food texture for a 10-month-old baby?
As a 10-month-old, your baby will now be able to chew soft foods. Foods that are naturally soft like bananas, pears, and yogurt are ideal and don't need any further softening. However, you may need to boil and mash vegetables like carrots and peas to make it easier or your baby to chew them. The same applies to pastas and rice.
Foods that immediately melt in the mouth, like some cereals, are a good texture for 10-month-old babies. When giving your baby solid food like chicken or a piece of fruit, be sure to cut it into bite-sized pieces to mitigate the choking hazard. By this time, your baby has also developed the motor skills necessary to hold small pieces of food, so you may begin to encourage them to feed themselves.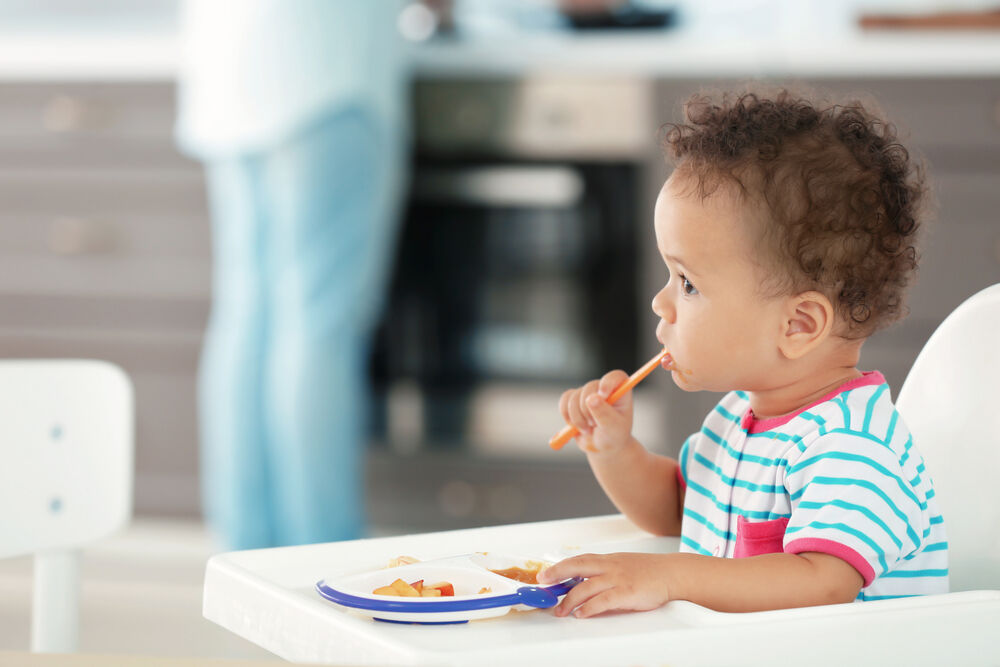 Your 10-month-old baby is exploring different taste and flavors at this age, which makes it a good time to try easy, creative recipes to add different foods into their diet. Here are a few easy-to-prepare 10-month-old baby food recipes to try out.
10-month-old baby food: recipes to try
Homemade hummus: Boil 400g chickpeas until soft, then rinse and drain. Add the chickpeas, the juice of 1 lemon, 2 tbsp of olive oil, 2 tbsp of tahini, and 1 finely chopped clove of garlic to a blender. Blend until the mixture is thick, yet smooth. Add 1 tbsp of water and blend again until there are no solid bits left and you achieve your desired consistency. You may add a dash of salt and drizzle olive oil before serving, though this is optional.
Tomato risotto: Boil 50 g of arborio rice in 300 ml water until it's soft. Drain the rice, then transfer to a pan and cook for a few minutes. Meanwhile, finely chop two tomatoes and stir into the rice, along with the 50 g mascarpone cheese and finely chopped basil leaves. Cook over gentle heat for a few more minutes and then serve.
Cauliflower and cheese pasta: Boil 50 g pasta in unsalted water until it's tender. Steam 2 or 3 cauliflower florets over the pasta for a few minutes until soft. To make the white sauce, combine milk (250 ml), butter (15 g) and flour (15 g) in a pan over gentle heat while stirring continuously, adding cheese (50 g) at the end. Drain the boiled pasta and cauliflower florets in a bowl and pour the white sauce over before serving.
Here is a sample daily menu for a 10-month-old baby. Keep in mind that each child has their own tastes and preferences, so you are free to try different foods and modify according to your child's likes and dislikes.
Breakfast
1/4 to 1/2 cup of mashed/boiled egg or infant cereal
4 to 6 ounces of breast milk/formula
1/4 to 1/2 of a fruit (banana, pear, etc.)
Snack
1/4 cup cooked vegetables (e.g. carrots, peas, green vegetables)
4 to 6 ounces of breast milk/formula
Lunch
1/4 to 1/2 cup of cottage cheese, meat (cooked, finely chopped), or yogurt
1/4 to 1/2 cup boiled and mashed vegetables
4 to 6 ounces of breast milk/formula
Snack
1 whole grain biscuit/cracker
1/4 cup yogurt or finely chopped fruit
Dinner
4 to 6 ounces of breast milk/formula
1/4 cup finely chopped fruit
1/4 cup pasta, rice, or potato (starch)
1/4 to 1/2 cup vegetables
1/4 cup protein (chicken, tofu, meat)
Before sleeping
6 to 8 ounces of breast milk/formula
As your 10-month-old's palate grows, they may want to try out different types of food. Adding vegetables, fruits, proteins, and dairy products into their diet is a good idea, but keep in mind that these foods should supplement the breast milk or formula your child is currently consuming, not replace it. The food served at this stage should be soft-boiled, mashed, or finely chopped, which makes it easy for your baby to bite, chew, and swallow the food. It's best to avoid items like cow's milk, nuts, hard foods, and sugary or salty packaged foods. Simple, homemade recipes can keep things creative and encourage your child to keep exploring new flavors and tastes.