In this study, PCOS symptoms relative to the country were analyzed to give a clear overview of the condition among users around the world.
Now we're ready to share the results and insights of this research with you.
The study was based on a questionnaire, available to Flo users for one month, about PCOS-related symptoms and previous PCOS diagnosis. There were a few criteria for participants:
Age 18–44
Users who track their cycle or are trying to conceive
All users in the study agreed to the use of their de-identified data for research purposes.
According to the research, most Flo app users who completed the PCOS questionnaire were coming from the following five countries: United States (U.S.), United Kingdom (U.K.), India, the Philippines, and Australia.
On the infographic below you can see the allocation rate of self-reported PCOS cases in percentages among these countries: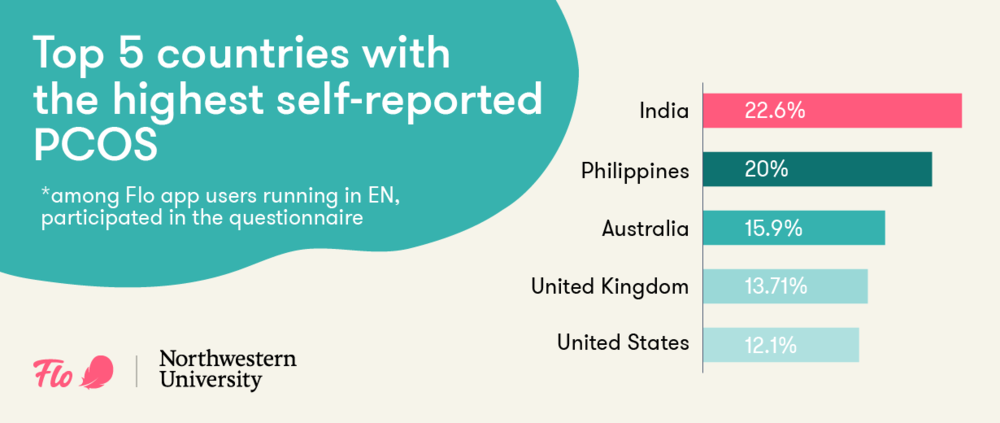 Another insight revealed the most common symptoms of PCOS among Flo users.
Users with PCOS in the U.S., U.K., and Australia shared the following list of their most predominant symptoms:
Bloating
Hirsutism (excessive hair growth)
Irregular cycles
Women with self-reported PCOS in India and the Philippines reported similar symptoms, with an obvious contrast in one specific point — baldness here is a predominant sign as opposed to hirsutism in the U.S., U.K., and Australia. The list of the most commonly reported PCOS symptoms in India and the Philippines looks like this:
Bloating
Baldness
Irregular cycles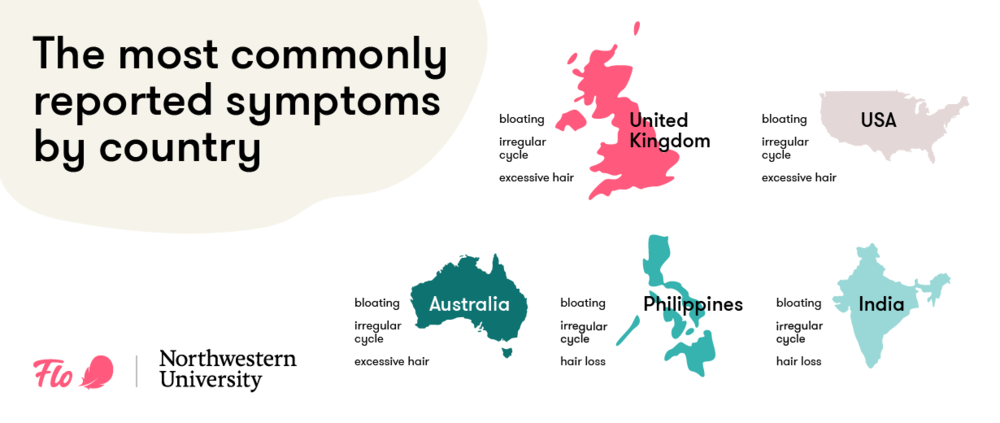 A variety of symptoms as risk factors of PCOS in all studied countries were also analyzed in the research. The three most common signs, or predictors, of PCOS that can signal to check with a doctor, are the following:
Hirsutism (excessive body hair growth)
High blood glucose
High levels of both cholesterol and glucose
Other signs of PCOS that the research participants shared include:
Acne
Skin hyperpigmentation
Bloating
Heavy menses
Baldness
Family history of PCOS
Irregular cycles
Inability to conceive for > 1 year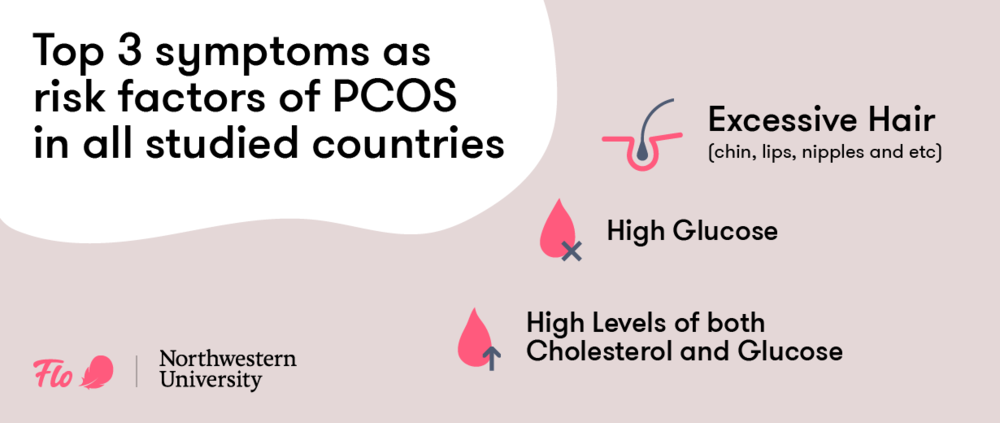 The research helped to get a more clear picture of PCOS allocation and symptoms worldwide.
As we found from the study, some countries revealed higher PCOS rates than others.
People with PCOS share the same most common symptoms worldwide, though there are some distinctive symptoms that might be found within a specific country.
There are three main signs as risk factors of PCOS that were found to be common in studied countries: hirsutism (excessive body hair growth), high blood glucose, and high levels of both cholesterol and glucose. These symptoms can help predict the disorder to get early medical assistance, if found.
Galic, Isabel, et al. "SUN-LB6 Characterization of PCOS Among Flo App Users Around the World." Journal of the Endocrine Society, Oxford University Press, 8 May 2020,
www.ncbi.nlm.nih.gov/pmc/articles/PMC7208834/.

Negris, Olivia, et al. SUN-LB3 Relationship Between BMI and PCOS Symptoms Among Flo App Users in the United States. 8 May 2020,
www.ncbi.nlm.nih.gov/pmc/articles/PMC7208870/.