Having a baby after experiencing pregnancy or baby loss can feel like a rainbow after a storm. It's something that many families experience, with 10% to 15% of known pregnancies sadly ending in miscarriage and around 2 million babies being stillborn every year. But while this experience is universal, it will mean something different to every parent.
It's natural that conceiving a rainbow baby after a loss can bring continuing grief and even guilt along with feelings of happiness and relief. This can be a confusing time, but everyone is different, and it's important to remember that there is no right or wrong way to feel.
A rainbow baby is the name given to a child born to parents who have previously lost a baby. The original loss could have been through a miscarriage, stillbirth, neonatal death, or death during infancy. While, for many, the term provides comfort and a language to communicate their intricate emotions, others feel that the phrase fails to acknowledge their ongoing grief.
When Iwona, 35, from Coventry, UK, found out she was pregnant with her rainbow baby Eilal, her overriding feelings were fear and denial. It took her 11 weeks to contact a midwife. "I thought, if I go to a professional, and this pregnancy becomes 'real', then anything can happen," she says. "If I denied the fact that I was pregnant, I wouldn't find out that something was wrong with the baby. I was protecting myself."
Two years earlier, Iwona's baby Muhammad had been stillborn at 20 weeks old. "I don't even fully remember the first week after he was born. My brain was just not working properly. I couldn't eat. We had to tell the kids that the sibling they were waiting for was not coming home," says Iwona, who already had four young children.
In the weeks that followed, Iwona found herself consumed with feelings of guilt. "Did I do something wrong?" she says. "I even questioned whether I'd drunk too much coffee or eaten too many sweets, and that had caused him harm. It was this constant blaming and constant, constant thinking."
It's crucial to remember that stillbirth is almost never the mother's fault. "The most common causes of stillbirth are related to issues with the placenta, with the baby (such as birth defects or chromosomal issues), or maternal medical issues, and some are unexplained," says Dr. Amanda Kallen, Associate Professor of Obstetrics, Gynecology, and Reproductive Endocrinology at Yale University. "It's important to remember that finding out the cause of the loss does not mean assigning blame."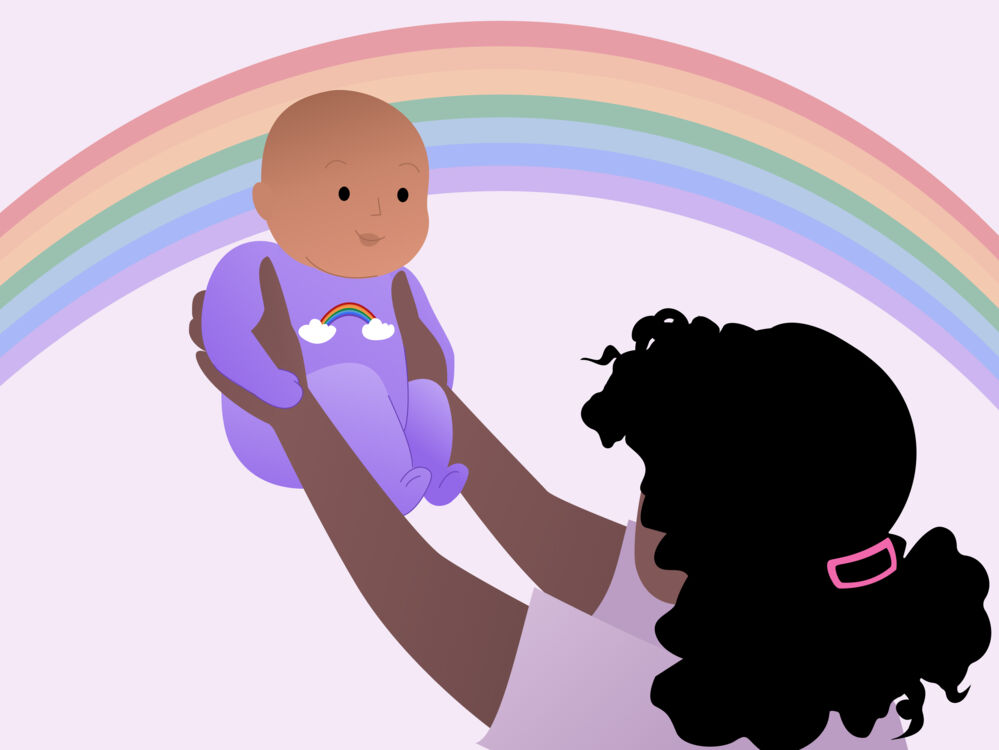 Iwona's impulse to deny her pregnancy with Eilal continued right up until his delivery. She couldn't even bring herself to buy baby clothes or pack a bag for the hospital. "I just told myself that I wasn't going to allow any positive feelings or positive thinking," she says. This reaction is both understandable and incredibly normal. "I definitely see women try to minimize or tamp down their excitement because they've celebrated and then had to grieve a pregnancy before," says Dr. Kallen.
For Iwona, that all changed when she gave birth to a healthy baby boy in January 2021. "My first thought was, 'He's alive!' And nothing else matters. It's just an incredible feeling. It's the best feeling in the world," she says. That's not to say Iwona forgot baby Muhammad amid her rush of happiness and love for her new son. "No matter how excited you are, you also miss the baby that is not here," she says.
Dr. Kallen explains that it's important to honor these kinds of feelings if and when they occur. "Don't rush the grieving process, and don't feel guilty about it — take the time you need," she says.
Because her trauma had happened during pregnancy, Iwona felt the "nightmare was over" once Eilal had been born, and she knew he was alive and healthy.
While the term "rainbow baby" can be useful and create a sense of hope for many, for some people, the term fails to communicate the ongoing difficulties for those who experience baby loss. This is something Iwona felt. "I had moments when I was looking at Eilal in his crib and started thinking, would Muhammad have looked the same as him? Would he have smiled the same way? Would they have played together? That doesn't go away."
For others, the term "rainbow baby" can be a real source of comfort. "I always refer back to the idea that your grief doesn't decrease; your life just grows around it," says Kirri, 33. "I think the rainbow baby meaning fits that."
Kirri lost her first baby, named Amelia, moments after she was born at 41 weeks. Amelia had become distressed during labor, and Kirri had to have an emergency cesarean section. The doctors delivered Amelia but couldn't hear a heartbeat. They spent 30 minutes trying to resuscitate her, but very sadly, she wasn't responsive.
Thrown into what she describes as a "state of grief and trauma," Kirri recalls: "All I wanted was to hold a baby," she says. "I wanted my daughter, but there's also that maternal instinct. My main driver in life became having another baby that I could take care of."
But because Kirri had had a C-section, she needed to wait at least six months before trying to get pregnant again. This advice is usually given to enable time for the scar to heal, as well as to give the person a chance to recover from any nutritional deficiencies resulting from the previous pregnancy, Dr. Kallen explains.
"All of this anxiety just hit us like a brick wall"
"The day we crossed that [six-month] mark, we started trying. And after trying once or twice, we were pregnant again," says Kirri. At first, she recalls, "we were ecstatic. But then all of this anxiety just hit us like a brick wall."
Along with concerns about her baby, Kirri started experiencing anxiety about her own health for the first time in her life. "I became really fearful that something would go wrong during the operation," says Kirri, whose safest option was to give birth via another C-section. This won't be the case for everyone who's had a C-section previously, as it "really depends on the reason for the first C-section, the type of C-section, and the resources available for the next birth," says Dr. Kallen.
"Many women will be candidates for VBAC (vaginal birth after cesarean), but in other cases (such as for women with a certain type of uterine incision which has a higher risk of rupture), a cesarean may be safer," she adds. Every individual can discuss their options with their health care provider, so they can make a plan that works best for them.
Kirri's health anxiety became worse as time went on. But thankfully, her healthy baby girl, named Sophia, was born in July 2022. "Hearing Sophia cry, I just felt this sense of relief," says Kirri. "I saw her face, and I cried too. We both did, just staring at her. We were so happy."
Like Iwona, Kirri describes parenting her rainbow baby as an emotional rollercoaster. "We don't ever want to forget Amelia," says Kirri. "She's driven so much of our life, and Sophia wouldn't be here if Amelia hadn't died."
It goes without saying that pregnancy following a loss can bring great anxiety, so it might comfort you to know that doctors can take extra precautions to monitor a baby's health during a rainbow pregnancy. "It's important to talk to your obstetrical provider to figure out if anything caused the miscarriage or baby loss so that you can discuss possible strategies for the next pregnancy," says Dr. Kallen. "Depending on what happened, your provider might monitor your hCG levels [the hormone that's produced during the first trimester of pregnancy] more closely, might recommend earlier or more frequent ultrasound scans, or additional testing."
Along with carefully monitoring your baby's health, it's especially important to be mindful of your own mental and physical well-being during a rainbow pregnancy. "Miscarriage and baby loss can cause intense feelings of grief, no matter how early the pregnancy loss," says Dr. Kallen. "Talk to your health care provider about how you're feeling. They can offer support and resources."
It's natural to feel conflicted about a rainbow baby announcement, but it all comes down to what feels right for you. In Iwona's case, she wanted to wait as long as possible before telling people about her pregnancy with Eilal.
Iwona didn't even tell her husband until after her first scan. "I was protecting him, and I was protecting myself," she says. Iwona ended up waiting 15 weeks before telling her best friend about the pregnancy and finally told her colleagues after her 20-week scan.
When Kirri found out she was pregnant again, she also wanted to keep it secret for as long as possible. But then her husband persuaded her that being open about their experiences could help challenge the taboos around pregnancy and baby loss. Plus, if something did go wrong, they would have wanted their loved ones to know and support them.
"From about five weeks in, we were telling everyone," says Kirri. "People's reactions are what helped us through: they were so happy for us."
If you've experienced pregnancy or baby loss, it's important not to lose hope. "Most people will go on to have a healthy pregnancy after a pregnancy or baby loss," says Dr. Kallen. And she's right — according to the baby loss support organization, Tommy's in the UK, more than 6 in 10 women who have a recurrent miscarriage go on to have a successful pregnancy. That said, "feelings of anxiety about a future pregnancy are very, very normal," Dr. Kallen adds. Make sure you speak to your health care provider about how you're feeling and discuss any special precautions they can take with your next pregnancy.
And remember, as Iwona and Kirri illustrate, while the grief of losing a baby may never go away, there is room to feel boundless happiness and love for a future child — your rainbow baby — alongside it.
Written by Kate Hollowood