If you're wondering how to delay your period naturally, you might be disappointed. Generally, there is no natural way that is proven to help delay your period. Some popular myths include taking apple cider vinegar or lemon juice.
While it might not delay your period, a 2014 study in Brazil involving 45 volunteers aged 18–40 showed that Tahiti lime (Citrus latifolia) juice reduced the duration and intensity of menstrual bleeding, as well as the presence of clots. In the course of the study, it was found that the juice of one lime reduces menstrual bleeding within 30 minutes after drinking it. But it's important to note that despite these results, how exactly lime or lemon juice works has not been reliably determined.
So, if you're wondering how to stop your period with lemon, there's no scientific data to prove it's efficient or safe. In reality, consuming too much apple cider vinegar or lemon juice can irritate and impact the health of your gums, teeth, mouth, throat, stomach, and intestines.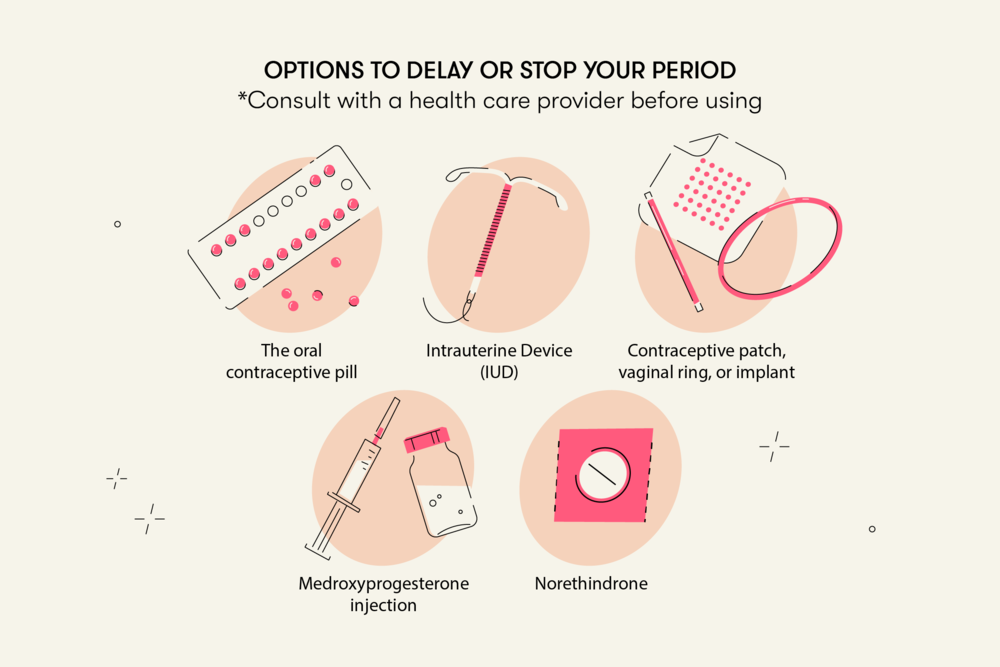 While there isn't a scientifically proven natural way to stop your period, there are a variety of non-natural and medicinal ways to delay or stop your period from coming. These typically include hormonal contraception, such as:
The pill or vaginal rings
Oral progestogen
Injections
If you're looking to delay or skip your period this month, this can be done with the pill by simply skipping the placebo or "sugar" pills. With the vaginal ring, instead of taking it out for a week, you can insert a new one to delay or skip menstruation.
Norethindrone is a synthetic form of progesterone (a hormone that prepares the uterine lining for pregnancy). If taken before the menstrual cycle, it prevents the drop of progesterone that triggers your period, effectively delaying menstruation. Once you stop taking this medication, your period returns within a few days. A U.S. study of norethindrone was conducted in 2019 with the participation of 50 women who wanted to delay menstrual bleeding for various reasons. During the research, the drug showed the ability to delay menstruation without any issues. Other positives include the fast return of fertility and the absence of taking hormonal drugs long term.
Medroxyprogesterone acetate, or DMPA, is another long-term contraceptive. It's given every three months by injection. Using this method of contraception can reduce or eliminate menstruation. In the first year of receiving injections, up to 75 percent of women reported an absence of menstrual bleeding. And the longer you use it, the fewer periods you have.
As previously mentioned, skipping your period may be done by skipping the placebo pills in your pack of birth control. But it's important to note that doing this can have side effects that may include feeling sick, diarrhea, and unexpected breakthrough bleeding. Not everyone experiences these side effects, but if you intend on taking this route, it's useful to be aware of them.
Some people may no longer get a period if they use a hormonal IUD. Whether or not this happens depends on the individual and the type of IUD. IUDs with a higher content of the active ingredient (levonorgestrel) are more likely to stop getting periods. During the first year of using a hormonal IUD, 20 percent of women report a lack of menstruation. The next year, that number increases to 50 percent.
Progestin shots (also known by the brand name Depo-Provera) are injections that need to be administered by a medical professional every three months. This may fully stop you from getting your period. In fact, many people find they no longer get periods after a year of getting shots.
Contraceptive implants, which are implanted in the arm just under the skin, may also stop ovulation, which can lead to absent periods. According to a study conducted in Indonesia from 2016 to 2018, with the participation of 140 women using contraceptive implants, people stopped getting periods in the first month of the study. Depending on the type of implant they had, the absence of menstruation occurred in around 33–41 percent of participants in the first month. However, getting periods became more likely over time: Over the next two years, the absence of menstruation was observed in around 28–30 percent of the participants, respectively.
Sometimes professional athletes stop getting periods. This is often due to the stress of training. This condition is referred to as amenorrhea, which is the absence of periods for 3–6 months. It most commonly occurs due to pregnancy, low body weight, or lots of intense physical activity.
Several studies have shown that it's relatively safe to postpone or skip your period by using hormonal birth control without taking breaks.
A 2005 study based on a database of scientific publications that compared continuous (nonstop) and cyclic use (taking the placebo pills) of hormonal contraceptives showed that they are equally safe.
In 2014, the study was supplemented with new research, but the conclusions remained unchanged. Studies conducted in 2003 and 2008 on continuous use of hormonal contraceptives without breaks (91 and 168 days, respectively) also showed it to be efficient and safe for extended use.
To reiterate, this can cause side effects. One of the biggest issues many experience with skipping or delaying their period is breakthrough bleeding. Other side effects include but aren't limited to nausea, breast tenderness, mood fluctuations, and lower sex drive. In other words, the side effects of prolonged use of hormonal contraceptives are the same as the side effects when you take a break. When you take a break from your birth control, you don't actually get your period — it's withdrawal bleeding, which is less important for your health.
So is it safe to delay or skip your period? Generally speaking, yes. But it's always a good idea to discuss your options with your health care provider beforehand. How you do it will depend on what birth control you're taking and how long you want to delay your period.