Period swimwear looks like regular swimsuit bottoms, but it contains a hidden lining that helps absorb menstrual fluid and protect against leakage.
Some people wear a menstrual cup or tampon while swimming but want extra protection. People who use pads may avoid swimming altogether when they're on their period. Period-proof swimwear is made to hold menstrual fluid and prevent leaks in the water.
What is period swimwear?
Period-proof swimwear looks similar to regular swimwear (bottoms) and has a lining to absorb menstrual blood. Certain types of period swimwear bottoms also have room for a pad.
Period-proof swimwear is excellent for providing backup protection when using a menstrual cup or tampon. They are specially designed for swimming during periods, incontinence, or vaginal spotting.
Period swimwear is also gaining popularity among people who swim in competitions as it helps them to focus on their meet without worrying about leakage while swimming.
Period-proof swimwear is also great for people with irregular periods or who are entering into puberty. Periods sometimes arrive unexpectedly, and period-proof swimwear can help protect against leaks while swimming.
Take a quiz
Find out what you can do with our Health Assistant
How period-proof swimwear works
There are different types of period swimwear.
One of these varieties of swimsuits combines three layers of protection. The bottom layer is made of waterproof material to stop menstrual blood from leaking out. The middle layer of the swimsuit is designed to lock in and absorb menstrual blood. The top layer of period swimwear is made of a material that wicks away moisture from the skin. It also helps fight bacteria and prevent the development of odors. This type of period-proof swimwear is not only absorbent, but also designed to dry quickly once out of the water.
Some types of period-proof swimwear can absorb up to 2 teaspoons (10 milliliters) of menstrual fluid. For reference, a normal tampon is usually able to hold about 1 teaspoon (5 milliliters) of menstrual blood.
The swimsuit can be worn by itself on light period days or along with a tampon or a menstrual cup on heavy period days. These swimsuits are typically available in a one-piece style (these are more expensive) and as bikini bottoms (these are typically less expensive but often don't come with the top half).
Another kind of period swimwear has an absorbent cotton gusset that is designed to absorb any menstrual blood before it can leak. There is also a layer of mesh in the gusset to keep skin dry and fresh. These swimsuits don't contain any plastic ingredients. This variety of period-proof swimwear may absorb about 3 teaspoons of menstrual blood. They can also be worn as backup for a menstrual cup or a tampon or by themselves on light period days. A pad can also be placed in the mesh pocket that lines the swimsuit gusset. Though the pad gets wet while swimming, it remains in place.
These swimsuits are made of nylon/spandex blend fabrics with cotton lining in the crotch area for absorbency. They are also available in a variety of styles including racer-back styles, one-shoulder suits, and halters.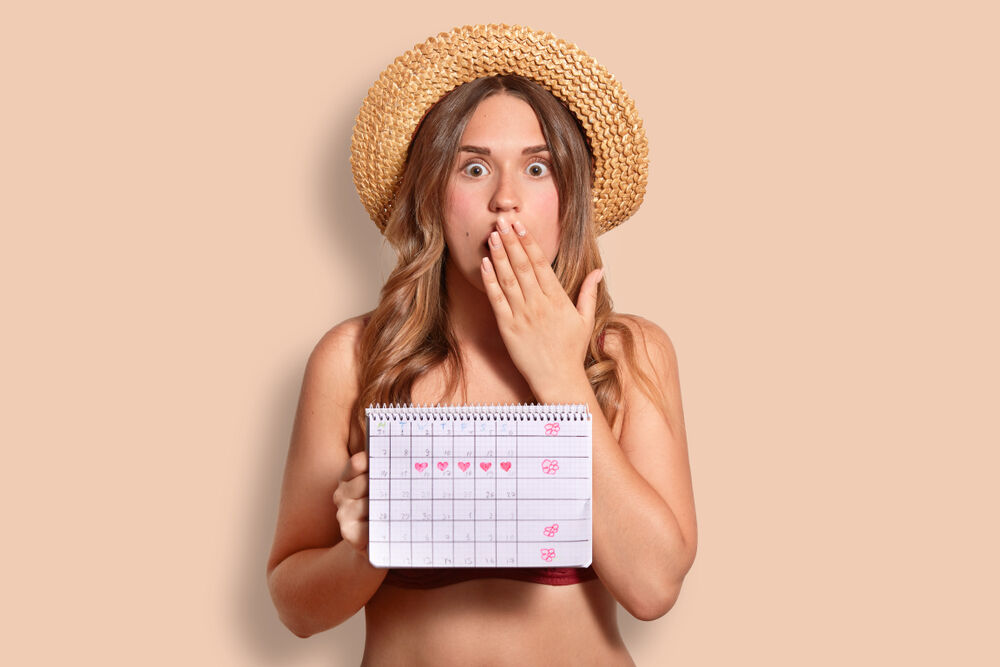 How to take care of your period swimwear
Rinse period-proof swimwear in cold water soon after using it and wash it according to the instructions from the manufacturer. Most styles should be hang-dried. Don't use fabric softener as it may interfere with the ability of the period swimwear to absorb menstrual blood. Some brands of period-proof swimwear are machine washable and can go in the dryer on low heat.
Other products for swimming on your period
Apart from period swimwear, there are other products for swimming while on your period. These include tampons and menstrual cups.
Tampons: A tampon is inserted into the vagina during menstruation. When inserted, the vagina holds the tampon in place, and the tampon expands as it soaks up menstrual blood. Tampons can be used while swimming.
Tampons need to be changed every four to eight hours.
Menstrual cups: A menstrual cup is a small, reusable, funnel-shaped cup made of silicon or rubber that is inserted in the vagina to collect menstrual blood. A menstrual cup rests in the vaginal canal. Menstrual cups should be washed and rinsed before each use and boiled every month for disinfection. They can also be worn while swimming.
Tampons can be a little easier to remove and replace. It sometimes takes people a little longer to become comfortable removing, rinsing, and reinserting menstrual cups. These are factors that can help one make the choice between using tampons or menstrual cups.
Conclusion
Is it possible to swim on your period? Yes! It is hygienic and healthy. Swimming can actually decrease cramps, and endorphins released from physical activity can boost mood and are great for overall physical and emotional well-being.
Period swimwear is a relatively new invention. It looks similar to regular swimwear and contains a hidden lining that absorbs menstrual blood. Different varieties of period swimsuits are available that are designed to absorb menstrual blood and keep skin dry and fresh. They can be worn as a backup for tampons or menstrual cups or by themselves on light period days.
The cost of period-proof swimwear may range between $40 and $130. It can be a great option for people looking for protection while swimming during their period, whether on vacation at the beach, for competitions, or for regular workouts.