Although there's medication and period products to give you more mobility and less pain when you're on your period, those items can be expensive — for your wallet and the environment — in the long term. They can even present some risks to your health if used improperly.
Many women are concerned about the waste period-related products contribute to landfills every year. Some women can't use those products due to skin allergies. That's where period underwear comes in. Switching to period-proof underwear can save you money in the long run.
The best type of underwear for your period is layered cotton. Cotton is breathable on your body and also absorbent. Some brands have created underwear to replace pads and tampons, with added layers of fabric that function as extra protection.
Whether you use period underwear, pads, or tampons, cotton is the fabric of choice. But just how do period panties work?
Period-proof underwear is a blend of old methods and new technology. Each company that creates period underwear has its own unique patented technology, but the formula is similar across the board.
Underwear designed to manage and absorb menstrual flow usually consists of the following:
Breathable cotton material — This is generally what most of the underwear will be made of. It's easy on your skin and comfortable.
Moisture-wicking layer — This layer is designed to absorb period blood and sweat, keeping your skin dry and comfortable even on your heavy flow days.
Odor-controlling layer — Menstrual blood can have a strong odor once it's exposed to the air, so a layer is usually added to absorb the odor and give you peace of mind.
Leak-resistant layer — The final layer is usually the leak-resistant layer, which acts as a barrier between your menstrual blood and your clothing.
Different companies layer these technologies differently and use different materials, so check carefully if you have skin sensitivity and choose a brand that caters to sensitive skin.
The underwear can hold on average between 1 and 2.5 tampons' worth of period blood. Some of the newer options can hold up to 4 tampons' worth.
Period panties come in various styles, so you can find something similar to the style of underwear you wear now or try something new. They range from classic briefs to boyshorts and thongs. Some brands have also branched out into period-proof swimwear and leggings.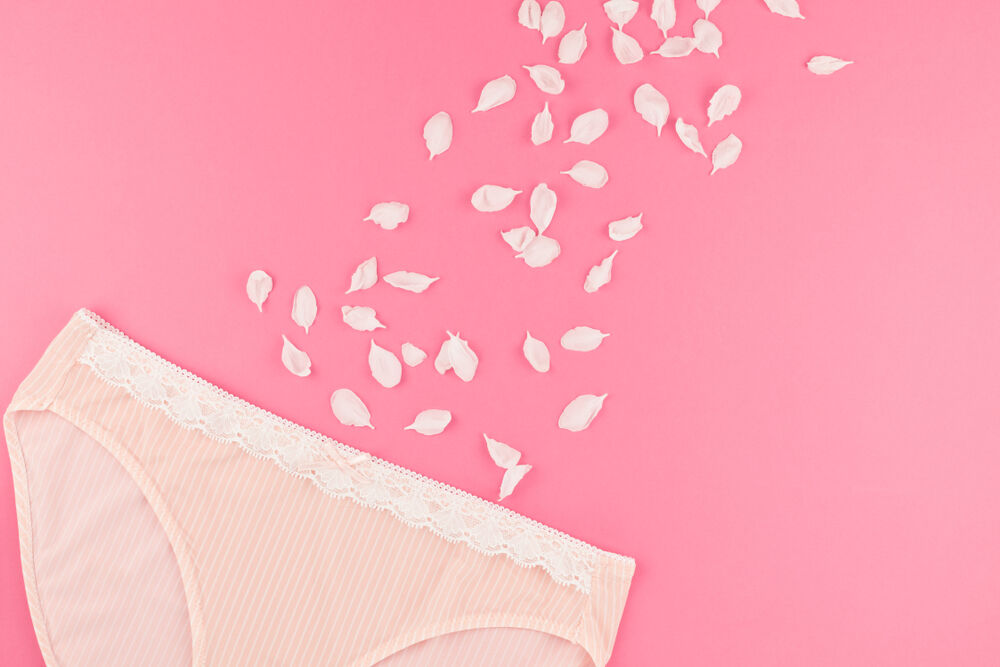 Depending on the brand, you can expect a pair of period-proof underwear to cost between $20 and $50. Here are the approximate costs from three top period underwear brands.
Thinx — $25–$40: Thinx has 13 styles of underwear, so you're sure to find your favorite fit. Some styles are designed for heavy days and others for moderate or light days.
Knix — $23–$38: Knix has 7 different styles, all with a seamless design so they're invisible under leggings.
Lunapad — $40–$42: Lunapad has 4 different styles but also offers adjustable absorbency and organic materials. You can use extra inserts in this underwear to handle your heavier days.
Even though period-proof underwear can be more expensive initially, it can save you lots of money in the long run. You can also wear these with tampons or pads if you need extra protection or have very heavy flows.
Unfortunately, not everyone can afford this type of underwear — or any other safe, hygienic period product, for that matter. Women and girls in India are especially at risk of going without any period-related products. Because of a lack of resources, many of these women cannot go to work or school easily and can even develop health issues.
That's why Flo has launched a charity campaign to help raise money for women and girls in rural India. Flo's goal is to help women of all ages be able to manage their periods safely and hygienically so they can continue to work and go to school. Get on board to help fight period poverty in India.
If you've never tried period-proof underwear, you may have some questions. You may be wondering if it's hygienic to wear underwear that you're bleeding into.
Underwear designed for period protection contains multiple layers of special material. This ensures that the material remains hygienic throughout your day and for each use. The moisture-wicking and odor-absorbing layers are also antimicrobial.
Some people have sensitive skin and may have problems with various fabrics on their bodies. Certain fabrics like wool, spandex, and nylon can cause rashes and irritation. If you have sensitive skin but want to try this type of underwear, research each brand. Some brands have cotton fabric on the side that touches your skin. Cotton is safe for most sensitive skin.
If you have heavy flows, you may be accustomed to using both pads and tampons at the same time to prevent leaks. How does that figure into period-proof underwear?
When choosing the period-proof underwear for you, check each style. There should be a note that tells you what kind of flow each style works best for. Some styles work best on lighter days, whereas others are designed to handle even your heaviest days.
The important thing to know is how your period works. You can use a pad with your period-proof underwear for the heavy days and go without on the lighter days. Try your period-proof underwear at home first to see how your new underwear handles your flow. Then you can decide if you need to bring pads along just in case.
Washing your period underwear is the best part of the whole concept. You can use the same underwear again and again.
It's not quite as easy as throwing your used underwear into the washing machine, however. There are a couple of steps you need to take.
Rinse your underwear in cold water to remove excess blood and avoid staining the fabric.
Machine-wash the panties on a cold-water cycle. Many people prefer to keep their period-proof underwear in a mesh bag with other delicates such as bras.
Hang or line dry period-proof underwear. You don't want to put them in the dryer.
Whether you're looking for a new period product to add to your system or are just curious to try something new, period underwear can be a great option. You can keep them in your bag in case of emergency or wear them freely on your period days to give you a sense of peace, comfort, and flexibility. Find out what style suits your comfort and flow to enjoy a freer experience at work and at home.