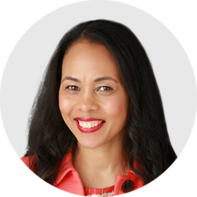 Claudine Matthews, MSc, RD
Registered dietitian, Newtri-fis Wellness, UK
Work Experience: 20+ years in nutrition and education
"Emotional intelligence and personal empowerment is the lens through which I live my life and what informs my worldview. I provide holistic wellness solutions using innovative learning approaches and nutritious eating to help people transition from underachievement to achievement and reach their health and lifestyle goals."
Career Highlights
Dietitian in General Practice, Newham, UK, 2020–present
Co-Director and Nutrition and Lifestyle Behavior Consultant at NEWTRI-fis WELLNESS, London, UK
Empowerment Mentor, Coach, and Motivational Speaker; developed three empowerment models and presented at the 2018 Annual Teaching and Learning Conference at London Metropolitan University
Associate Lecturer in Dietetics at London Metropolitan University, London, UK, 2016–present
Nutrition Consultant in Sickle Cell Disease; authored the first ever National Nutrition Standards for Sickle Cell Disease globally, and published several articles on the topic
Specialist Dietitian and Social Care Professional at Homerton University Hospital NHS Foundation Trust, London, UK, 2002–2016
Community Dietitian at the Department of Health for the Western Cape, Cape Town, South Africa, 1995–1999
Fellow of the Higher Education Academy
Education
Doctor of Science in Health and Social Care, researching how to integrate nutrition into sickle cell health care provision, Anglia Ruskin University, Cambridge, UK, 2022 expected graduation
Coaching qualification from Champion Academy, 2018
Master of Science in Healthcare Education and Clinical Leadership from Kingston University London, UK, 2011–2014
Bachelor of Science in Nutrition and Dietetics from the University of the Western Cape, Cape Town, South Africa, 1992
Featured Publications
Overcoming Disempowerment: 10 Courageous Steps to Lead Yourself First to Live an Empowered and Purposeful Life. Grace House Publishing, 2019.
"Pioneering National Nutrition Standards." Nutrition2me, CN, vol. 21, no. 1, Feb/Mar 2021, https://nutrition2me.com/wp-content/uploads/2021/03/Sickle-Cell-Disease.pdf
"Standards for the Clinical Care of Adults with Sickle Cell Disease in the UK." Sickle Cell Society, 2nd Edition, 2018, https://www.sicklecellsociety.org/wp-content/uploads/2018/05/Standards-for-the-Clinical-Care-of-Adults-with-Sickle-Cell-in-the-UK-2018.pdf
"Nutritional Implications of Sickle Cell Disease." Nutrition2me, CN, vol. 15, no. 6, Dec. 2015/Jan. 2016, https://nutrition2me.com/wp-content/uploads/2012/05/images_free-view-articles_free-downloads_SickleCellDisease1.pdf
My Journey in Nutrition
I take an all-around approach to wellness. Mental well-being and inner motivation are a key part of behavior change, so I use a variety of empowerment techniques to help my clients meet their health and nutrition goals.
Empowerment is a topic near and dear to my heart, stemming from my personal journey from disempowerment after living under the apartheid regime in South Africa. In my book, Overcoming Disempowerment, I encourage readers to take steps towards purpose and achievement in their lives.
Before stepping into general practice dietetics, I worked in higher education for several years. I taught leadership and management to final year dietetic students at London Metropolitan University to prepare them to enter the field.
In my current role, I aim to raise the profile of dietitians as important leaders and influencers within the health care system. Beyond nutrition consulting, I also offer leadership coaching and training to individuals, groups, and organizations at NEWTRI-fis WELLNESS to improve public health. We provide solutions using new development approaches personalized to our clients' specific professional, health, and lifestyle needs.
Another focus of mine is nutrition for patients with sickle cell disease. I have published a number of papers and guidelines on the topic and am currently undertaking a doctoral degree aimed at improving provision of nutrition services for this population in the UK.
Flo is a great platform to distribute evidence-based information on health and wellness in an accessible way to people around the globe. It's an honor to have the chance to advise on nutrition content alongside renowned medical experts.
Flo Advisory Board of 100+ Doctors, Scientists, and Health Experts
We break down complex medical topics into accessible and digestible information that empowers readers to take action and prioritize their own well-being. Our team of Medical and Scientific Advisors is made up of over 100 certified health experts from a variety of disciplines who ensure that every piece of content we release is medically accurate, understandable, and up-to-date with the latest scientific findings. We rely on medical guidelines from international health organizations and get information from academic institutions and peer-reviewed articles, which is fully described in our Flo Editorial Process and Standards.