When you box against a heavy bag or a real person, you train your muscles and enhance your upper-body strength and bone-building power. Heavy punching bags typically weigh between 50 to 150 pounds. When heavy-bag workouts are done properly, they can help you lose weight without harming your health.
In order to effectively tailor your movements to hit the bag, you need to engage your upper body, lower body, and core. Whenever you hit a punching bag, you engage your fist, feet, and knees, and your body experiences tremendous resistance. Your entire body is activated, including your core, shoulders, and hips. You also engage your arms, shoulders, chest, back, waist, and legs.
When you do hooks and uppercuts, you use your arms and back. With straight punches, you strengthen your chest and shoulders. To increase your muscle mass, try to vary your workout routine to target different areas of your body.
Heavy-bag workouts are extremely intense, burn fat, and can help you be better able to defend yourself if someone tries to attack you. For women who find it difficult to lose weight after pregnancy, heavy-bag workouts are recommended along with a good post-pregnancy diet.
Heavy-bag workouts have numerous health benefits:
enhance aerobic fitness, core stability, coordination, power, stamina, and endurance
improve upper-body strength and strengthen bones and ligaments
enhance boxing technique
increase self-defense skills
reduce anxiety and stress
improve self-esteem, confidence, and body image
help with weight loss and tone
Regardless of the exercise workout, it's extremely important to hydrate and get adequate sleep.
For beginners, it's best to take things at your own pace and add to your regular routine gradually. You can start out with basic punches and then start combining them and intensifying your workout. Basic boxing punches include jabs, crosses, left and right hooks, and left and right uppercuts. You can combine these punches to hone in on different areas of your body or to improve specific boxing techniques. For example:
jab–cross
jab–hook–cross
cross–hook–cross
jab–cross–hook–cross
jab–cross–jab–cross–hook–hook
Below is a simple workout routine that you can follow to start off with:
Warmup
10 minutes jumping rope
20 squats
20 push-ups
40 crunches
Shadowboxing (three-minute rounds)
basic jab, cross, and hook punches
rest for 30 seconds
repeat four times
For beginners, try to stick to three-minute rounds and then gradually increase to five-minute rounds as you gain strength. Give yourself a minute's rest between each round. Pace yourself and keep your movements going with punching the bag, even if you're just touching it at a low speed.
Finisher
50 push-ups
50 squats
100 sit-ups
Rest as little as possible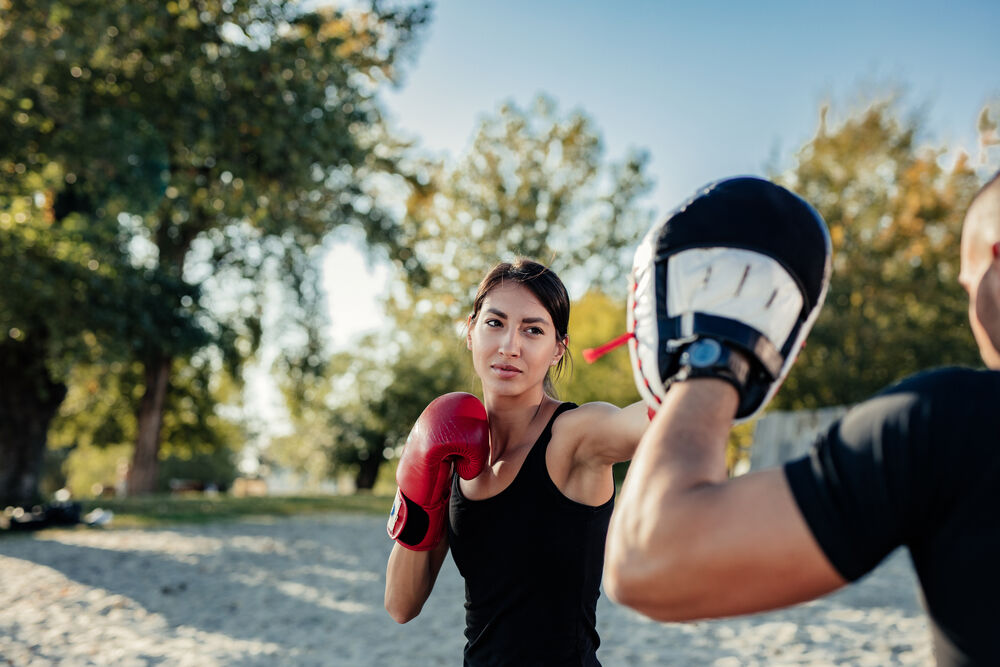 The following are some great boxing workouts:
Sparring
Sparring is when you punch an actual opponent without intending to hurt them. No other training better mimics fighting conditions than sparring. Apart from the thrill of exchanging punches, sparring is an excellent boxing workout.
It is actually much harder than the training itself. Every muscle in your body is engaged with each jump, twist, and contortion of your body to counter your opponent's moves. Your arms get a good workout with each swing. Your legs wear out more quickly because you keep losing your balance.
Your mind is also fully engaged because you have to be simultaneously anticipating your opponent's next move while strategizing your next countermove or strike. Your breathing pattern is also different than in training and heightened because you have a mouthpiece.
Mitts
Mitts are one of the best boxing drills for learning a new technique. Mitts work on your timing and precision under circumstances that resemble a real fight. You start with a moving target that punches back at you.
Try not to throw full force into every shot, but work on the precision of each swing, your timing, breathing pattern, coordination, and reflexes. Control yourself and try not to wear yourself out too quickly.
Shadowboxing
Shadowboxing is circling an invisible opponent while boxing at them. Shadowboxing in front of a mirror allows you to see your body and notice all the changes in your movements. From a physical perspective, it enhances your form, speed, and balance. You can practice whatever you'd like at full speed while moving around. The only things you need to shadowbox are a place to train and free time.
Double-end bag
The double-end bag is an exercise tool that is somewhere between a heavy bag and a speed bag. The double-end bag possesses a far greater challenge to strike and develops your higher-level skills, mostly timing and accuracy.
The double-end bag is amazing for improving your hand speed and arm conditioning. If your speed isn't fast enough to strike the double-end bag, you may not be fast enough to hit an opponent. We recommend that you wear 12 to 16 ounces gloves for the double-end bag.
Jump rope
The jump rope trains you mentally and helps you increase your muscle efficiency while enhancing your muscle conditioning. The jump rope mainly teaches body conditioning and relaxation. Beginners usually struggle between constantly using their muscles and not knowing how to relax. However, if you know how to train yourself to relax, you can jump rope for extended periods and not lose too much energy.
Jumping rope develops mental relaxation and requires a minimum level of awareness. Physically, it works out your arms, shoulders, back, and legs. You develop better and more relaxed footwork. To take good care of your body, make sure you know what to do after a workout and how to properly cool down and hydrate.