Many LGBTQ+ people grew up believing that having a family would be incredibly difficult, if not entirely out of the question. Fortunately, thanks to modern medicine, that's no longer the case.
Developments in fertility treatments mean more of us than ever before can realize our dream of becoming parents — and we're doing exactly that. In the U.S., for example, it's estimated that around three million children have an LGBTQ+ parent. Stats on the exact methods used to conceive are hard to come by, but the Human Fertilisation and Embryology Authority (HFEA) in the U.K. has noted a rise in sperm donation since 2016.
But what is a sperm donor? And how does sperm donation work? Below, you'll find answers to the most common questions about sperm donation. Have a read and then speak to an LGBTQ+-inclusive doctor or medical professional to help you work out whether this route is the right choice for you.
Simply put, a sperm donor is anyone who donates their semen to help anyone who wants to have a baby. The semen is placed inside the uterus using intrauterine insemination (IUI) at a clinic or intracervical insemination (ICI) at home in the hope of fertilizing an egg. Donated sperm can also be part of the process of in-vitro fertilization (IVF) or reciprocal IVF (R-IVF), when it's used to fertilize an egg in a lab to create an embryo.
Couples or individuals looking for a sperm donor have two options: Use an anonymous donor or opt for someone they know.
There are a number of donor sperm banks available to LGBTQ+ people looking to start a family in the U.S. and the U.K.
Fertility specialist Dr. Tiffanny Jones says the safest way to find a donor is from a trusted, registered fertility clinic. They'll give you access to a list of anonymous donors in their preferred donor bank (cryobank) who have been vetted and screened.
You won't be able to view information that reveals the donor's identity, but most clinics allow you to see their age, medical history, a personal description (if they choose to write one), and a physical description — such as their weight, eye color, and ethnicity.
Not sure where to start with finding an LGBTQ-inclusive clinic? Your primary care provider or a local family planning clinic might be able to offer some leads. There's also a list of local support services at the end of this article to point you in the right direction. If you have friends who have used a sperm donor, you could ask for their recommendations, too.
Another viable option is to use a trusted friend as a sperm donor. People often use this option to cut out the cost of a clinic, but Dr. Jones strongly advises against it.
"Someone might be willing to do a beautiful thing by donating sperm but unknowingly harm your reproduction by passing on chlamydia or gonorrhea," she says. A much better option is to have a friend's sperm tested at a clinic before insemination, so you know it's safe.
Fertility doctors perform rigorous checks on sperm collected from any donor at a clinic. "[After collection,] the sperm would go through an exam, which would be testing for infectious diseases," Dr. Jones explains. "Since one ejaculate may have 100 million sperm, that specimen is divided into vials of typically about 10 to 15 million sperm."
Those vials are then held in storage until that donor comes back six months later to undergo the same testing. If no positives are there, anonymous sperm will be released to the public to be used. If you know your donor, the process is the same, but the vials aren't released to the public.
With clinic-based IUI, the sperm has also already been washed and processed — another crucial step that's worth paying for.
"It's important to wash the semen as ejaculate doesn't just contain sperm," Dr. Jones says. "There are other cells and proteins dangerous to the uterus. Through intercourse, the ejaculate is in the vagina and only the sperm swims up the cervix. So if you take a full ejaculate and put that into someone's uterus, the receiver can have an allergic reaction."
Social media and apps might sound like a tempting option when looking for a sperm donor, but Dr. Jones warns against using the internet.
"These are the corners you don't want to cut," she tells Flo. "Donor sperm and people who donate sperm are screened and tested. There are also certain panels the American College of Obstetrics and Gynecology recommends be screened based on your ethnicity." A stranger from Craigslist may not think of factors like these.
There can also be legal problems later down the line. "Most concerning is if you don't go through a clinic, [the donor] can later be considered a legal parent of the child produced," she explains.
If you decide to use an app with the express interest in having a child together without knowing the person's background, then it's crucial that you get more information about your donor's medical history and current health. You should also speak to a lawyer and ensure that a legal agreement is drawn up between yourself and the donor.
Remember: The safest way to locate the right sperm donor for you is via a registered, accredited fertility clinic.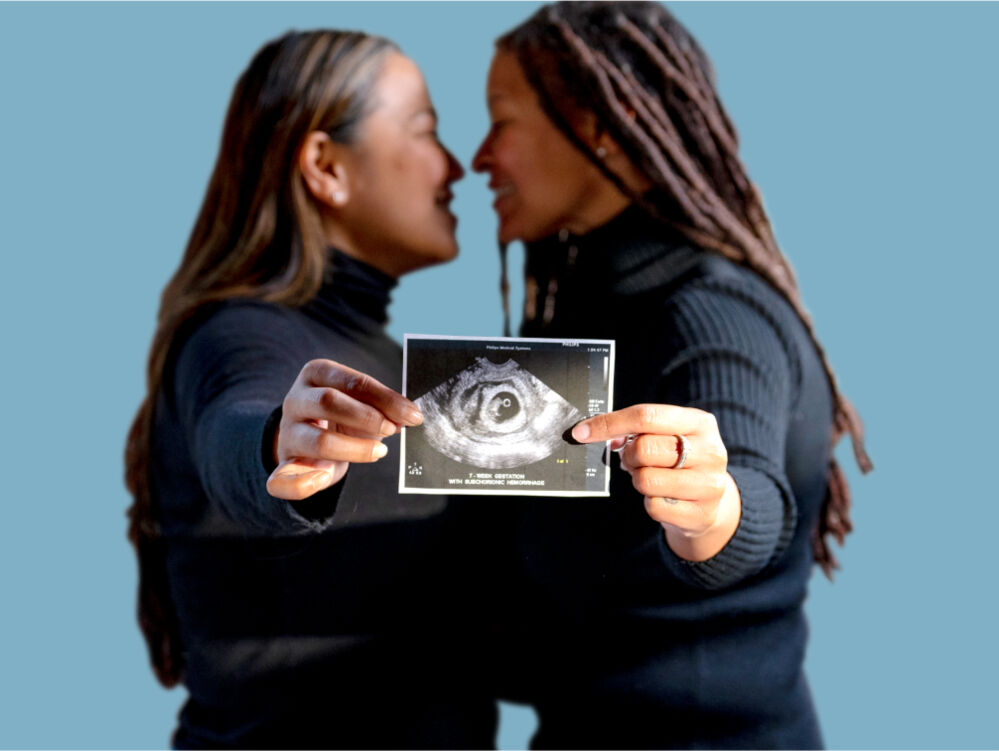 If you're using donor sperm, at-home insemination (or "the turkey baster method") using a kit is an option lots of LGBTQ+ people choose. Why? Dr. Karen Gurney, sexologist and author of Mind the Gap, says it's more intimate and less clinical than IUI at a clinic.
You can make the process special by setting the scene with lighting or a meaningful playlist, she says. Connecting conception in your mind with sex by having whatever type of sex you enjoy (solo or with a partner) and remembering it as baby-making sex is also a nice way to approach insemination.
Balancing intimacy with safety is vital here. That's why Dr. Jones recommends acquiring the donor sperm via a clinic, then looking into kits for home insemination. That way, you know the sperm has been tested for STIs.
DIY insemination does come with risks of health complications, she says. So it's always best to consult your GP or a medical professional to find out what's right for you before you settle on a fertility treatment.
Obtaining donor sperm certainly isn't cheap. While prices can vary widely around the world, you can expect to pay a minimum of $500 per cycle (basically, per vial of sperm) in the U.S. — and that doesn't count the costs of storage, shipping, nor the insemination process itself. IUI is also expensive, ranging from $250 to $4,000 per cycle.
Whichever way you decide to do it, you'll need to time insemination around your fertile days to increase your chance of getting pregnant and reduce your costs. We'd recommend downloading a period tracking app like Flo to make it easier to know when you're ovulating. It'll keep a close eye on your cycle and notify you when you're most likely to conceive.
Any fertility journey — whether it's through sperm donorship or another route — can have complex mental health implications. "When people decide to become parents, I think sometimes they can get lost in the process, so it's very important to keep a sense of self and keep lines of communications open [with a partner]," Dr. Jones says.
She points out that the pregnancy success rates for sperm donorship are about 17–20 percent for cis women and people who menstruate with no fertility issues. Often, people go through 3–6 rounds of sperm donation before there is a pregnancy. So while embarking on sperm donorship can of course be exciting, it also means opening yourself up to disappointment.
Feelings of isolation can also be particularly prevalent when you're trying to conceive. During those low moments, it's so important to look after your mind and your body.
Speaking to an LGBTQ+-inclusive counselor who specializes in fertility issues can make a huge difference to your experience (the organizations below will be able to help you find one), as can establishing a regular self-care routine. You know yourself best, so don't be afraid to speak up if you're struggling.
Please note these resources are just for reference and are in no way associated with Flo