When you're trying for a baby, you suddenly find yourself in a whole new world of fertility abbreviations. Honestly? It can leave you feeling like you're learning a new language. And how can you be expected to keep up with the conversations among the trying-to-conceive (that's "TTC," by the way) communities in forums like Flo's Secret Chats?
Stick with us to decipher your hCGs from your BFPs, as we comb through all the TTC acronyms you could ever come across on your journey to parenthood.
The most common acronyms and abbreviations when you're trying to conceive
However you're trying to conceive, you're likely to come across some of the following fertility acronyms on your travels.
TTC
The one you'll probably hear and see most: trying to conceive. Whether you're switching to TTC mode on the Flo app or seeking out a like-minded community of other hopeful parents elsewhere, it's one that you'll no doubt hear again and again.
DPO
Days past ovulation. You'll see this acronym pop up a lot in chats between people who are waiting to find out if they're pregnant, for example, "I'm 8 DPO."
BFN
Big fat negative. You took a pregnancy test, and it may not be the result you wanted. If you're feeling deflated, it's only a small comfort, but you're certainly not alone. Look for support around you and try to keep hope. Remember that 85% of couples conceive within the first year of trying.
BFP
Yay! Two lines means a big fat positive pregnancy test! Time to contact your doctor, switch to Pregnancy mode in the Flo app, and prepare for an exciting 40 weeks ahead.
TWW
Ah, the two-week wait. That nail-biting time between ovulation — or having fertility treatment — and taking a pregnancy test to see if you're pregnant is a tough time. You try to put it out of your mind, but sometimes you can't think of anything else.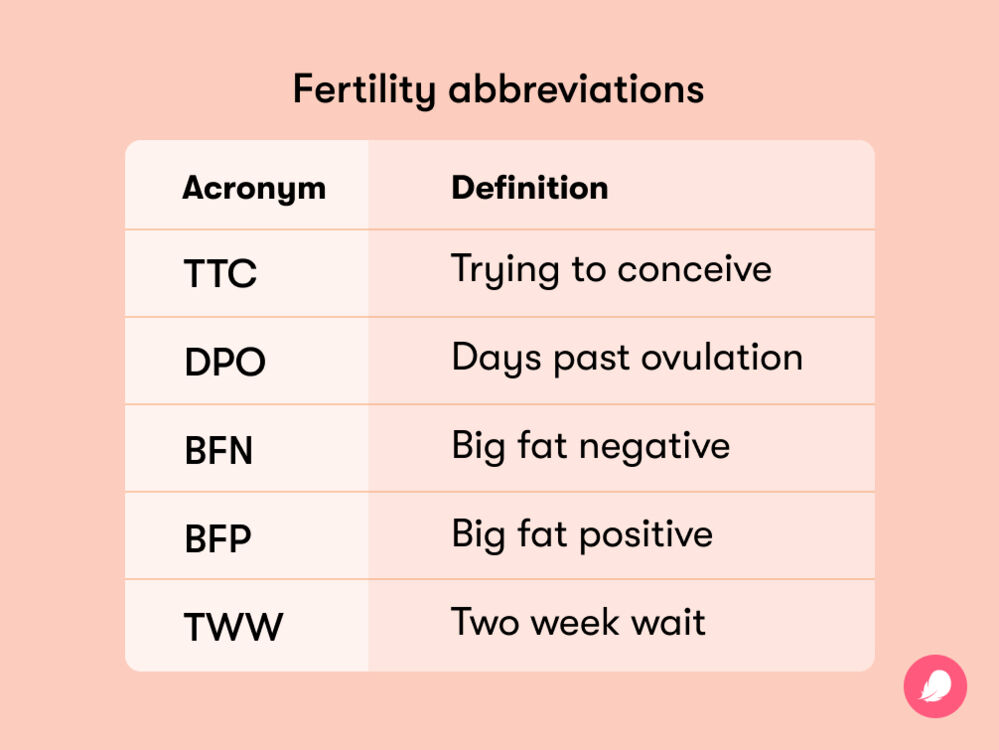 Fertility abbreviations: The health ones
There's a whole lot of medical lingo to learn when you start trying to conceive. Where better to start decoding the technical speak than our fertility abbreviation glossary?
AMH
Levels of the anti-Mullerian hormone come from the growing follicles (small sacs filled with fluid) on your ovaries and correspond to the number of eggs you have. It's a component of ovarian reserve, which means you're most likely to come into contact with this abbreviation if you're having fertility treatment.
ART
Assisted reproductive technology is the umbrella term for all fertility treatments that involve the handling of eggs and sperm and/or embryos, including in vitro fertilization (IVF) and embryo transfers.
BBT
Your basal body temperature is your body temperature when it's at rest and may help you figure out when you'll ovulate.
EDD
That's your estimated due date. Some doctors refer to it as EDC (estimated date of confinement). It's 40 weeks from the first day of your last menstrual period (LMP — yep, another acronym you'll see crop up often), and you can use Flo's pregnancy due date calculator to predict yours. Or if you've had fertility treatment, your EDD is figured out from the date of fertilization.
FSH
Another hormone, this one — follicle-stimulating hormone — is made by your pituitary gland, and it tells the ovary to create a follicle (to mature the egg) in the lead-up to ovulation.
hCG
All that peeing on a stick? Every pregnancy test you do is looking for the pregnancy hormone human chorionic gonadotropin (hCG), which your body starts producing around six days after fertilization. This is only detectable by a home test after approximately two weeks from fertilization. Doctors will often use hCG as a medication in fertility treatment cycles to mature eggs.
IVF
In vitro fertilization is when your egg is mixed with sperm in a lab. "In vitro" means outside the body, and "fertilization" means the sperm has attached to and entered your egg.
ICSI
A subtype of IVF, ICSI stands for "intracytoplasmic sperm injection." With this technique, sperm is injected directly into your egg. It's used by doctors when they think conventional IVF might not work.
IUI
Intrauterine insemination is a fertility treatment in which sperm is inserted directly into your uterus around the time of ovulation with the hope of it fertilizing an egg. You might be offered this if you can't have vaginal sex, if you're in a same-sex relationship, or you're having difficulty conceiving.
LH
When you're trying for a baby, your luteinizing hormone is crucial. It's the hormone that triggers the release of an egg from your ovary — otherwise known as ovulation. Your LH levels peak just before ovulation, so when you're using ovulation predictor kits (OPKs) or tests, this is the hormone they're measuring.
PCOS
Polycystic ovary syndrome is a common hormonal disorder in which the ovaries do not release eggs in a typical monthly way. This disorder causes irregular cycles and extra androgens (typically "male" hormones), which can cause acne and hair growth in places it doesn't typically grow, like the face, chest, or lower abdomen.
U/S
An ultrasound is a scan you might have if you're having difficulty conceiving to see if there are any problems with your uterus, ovaries, uterine (fallopian) tubes, cervix, or pelvic area (this is a transvaginal ultrasound). This kind of scan may also be familiar if you have fertility treatment.
Other fertility abbreviations
Feeling like you're part of the TTC community can be important. Knowing that others are going through a similar emotional (and physical) journey can be comforting, so make sure you're not missing out by clueing yourself up on the definitions of all the acronyms people use in forums like Flo's Secret Chats.
AF
Aunt Flo. Your period. Aka the relative you probably don't want to see when you're trying to get pregnant.
Baby dust
Baby dust is used as a way to say "good luck" to someone who's trying to conceive. As in, "Sending you lots of baby dust!"
BC
Birth control, now perhaps a distant memory for you.
CM
That's your cervical mucus. When you're ovulating, your mucus can become more slippery, wetter, and clearer like raw egg whites, so it's a sign that it's a good time to try.
DTD
Do the deed — the deed being having sex in order to conceive.
POAS
Pee on a stick — in other words, take a pregnancy test.
SO
Significant other — the person you're in a relationship with.
Fertility abbreviations: The takeaway
And that's pretty much it! Hopefully, this makes the world of trying to conceive less overwhelming for you. So, what to do with your new knowledge? Try putting it into action by using it in conversation if you feel comfortable. And remember that if you ever do get stuck, the Flo community is a lovely bunch and will almost certainly explain anything you don't understand, so if you have the app, then don't forget to ask in Secret Chats. They'll send you lots of baby dust too!