During your reproductive years, you will have your period roughly once a month. Unless you aren't comfortable with the idea or it causes you discomfort or pain, there's no reason to avoid having sex during your period. It's usually safe for both partners.
Having sex during your period is entirely safe, although it can sometimes get messy. However, like everything else involving your period, you can do pretty much anything as long as you're prepared. It might be a good idea to tell your partner if you're on your period to avoid catching them off guard.
If you are wearing a tampon, take it out beforehand. To avoid staining your sheets, have a towel ready to lie on. You can even get creative and enjoy some time in the shower together.
Keep in mind that you still need to use protection when you have sex during your period. You're more vulnerable to sexually transmitted infections (STIs), and pregnancy is still possible, so make sure you use birth control and are protected against STIs.
Having sex during your period has a few advantages including:
Relief from menstrual cramps — Having an orgasm is a great way to get relief from menstrual pain. During an orgasm, the muscles of your uterus contract. Then they release, bringing some relief from menstrual cramps. What's more, orgasms release endorphins that make you feel good.
Less need for lubrication — Introducing lube into your bedroom can result in more pleasurable sex, as many people don't produce sufficient natural lubricant. However, when you have period sex, blood acts as a natural lubricant.
Shorter periods — Having sex can shorten your period. The contracting of the uterus during an orgasm can speed up the shedding of your uterine lining.
More enjoyable sex — For many people, having sex during their period can be even more pleasurable than at other times of the month. This is because of the changes in your libido that occur throughout your menstrual cycle as a result of hormonal fluctuations.
Although having sex during your period comes with many upsides, there are also a few downsides:
It can be messy. There's always a chance that blood will get on you, your partner, and the sheets, especially if you have a heavy flow. What's more, you might find yourself worrying about making a mess, and this can take some of the fun out of sex.
You have an increased risk of STIs. According to the Centers for Disease Control and Prevention, having sex during your period increases your risk of getting or transmitting an STI like HIV. The virus may be present in your period blood. Health experts strongly encourage using a condom to decrease this risk.
It might be smelly. Period blood can often have an unpleasant smell. In the heat of the moment, you and your partner might not be focusing on the smell, but it's good to be prepared.
Your positions are limited. You or your partner might not be comfortable with oral sex when you're on your period. Being on top might also be messier, thanks to gravity. A great position to try could be lying on your back.
Although the odds of conceiving are lower during your period, it is still possible.
Getting pregnant depends on when ovulation occurs in your cycle. The day of ovulation differs from person to person. In theory, you are more likely to get pregnant from having sex during your period if you ovulate early in your cycle or if your period lasts much longer than the average five days. If you are not planning to become pregnant, it is better to use contraception.
If you're curious about your ovulation patterns, you can track your cycle using a period tracker and an ovulation calendar. By entering the details of your cycle over several months, you'll get more precise period and ovulation predictions.
Another consideration is the lifespan of the sperm. Sperm can live in your body for up to five days. If you have intercourse near the end of your period, that sperm might still be present at early ovulation.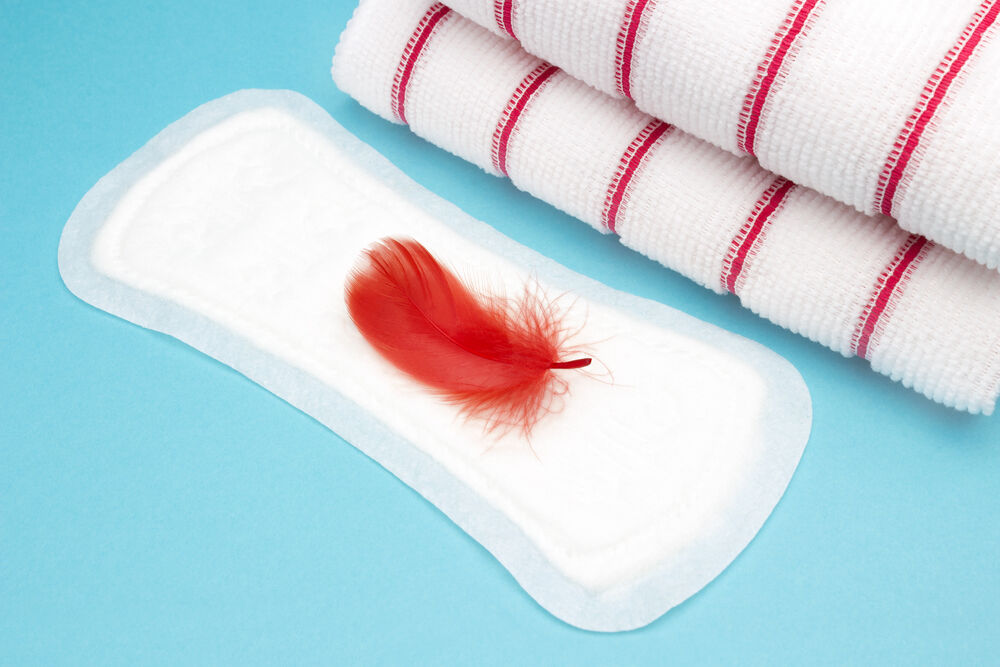 There are two significant reasons to avoid having unprotected sex during your period:
Although less likely, it's always possible that you could become pregnant. If you're not trying to get pregnant, you should always have protected sex. You will need to use some form of contraception, like a condom or birth control pills.
Having sex during your period without a condom can increase your chances of getting or passing on an STI. Viruses like HIV may be present in menstrual blood, so it's essential to use a condom to reduce the risk of infection.
If you want to have great sex during your period, follow these helpful tips:
Have an open and honest discussion with your partner. Tell your partner how you feel about having sex while on your period. Ask them how they feel as well. If one of you finds the experience uncomfortable, it's best to wait.
Lay a towel on the bed to prevent staining the sheets.
Keep wet wipes handy to clean up after sex.
Remove your tampon ahead of time if you are using one.
Make sure to use protection against STIs and pregnancy.
Some positions might be uncomfortable when you have sex during your period. Try something different and find the most comfortable position for you and your partner.
If you and your partner consent to it, oral sex during your period doesn't have to be off-limits. Just remember that it's possible to transmit infections through tiny cuts or tears in the mouth, so make sure to protect yourself and your partner.
Sex involves a wide range of fluids and excretions, including sweat, sperm, vaginal discharge, and even blood. With a little preparation and protection, you'll be ready to enjoy the moment with your partner.