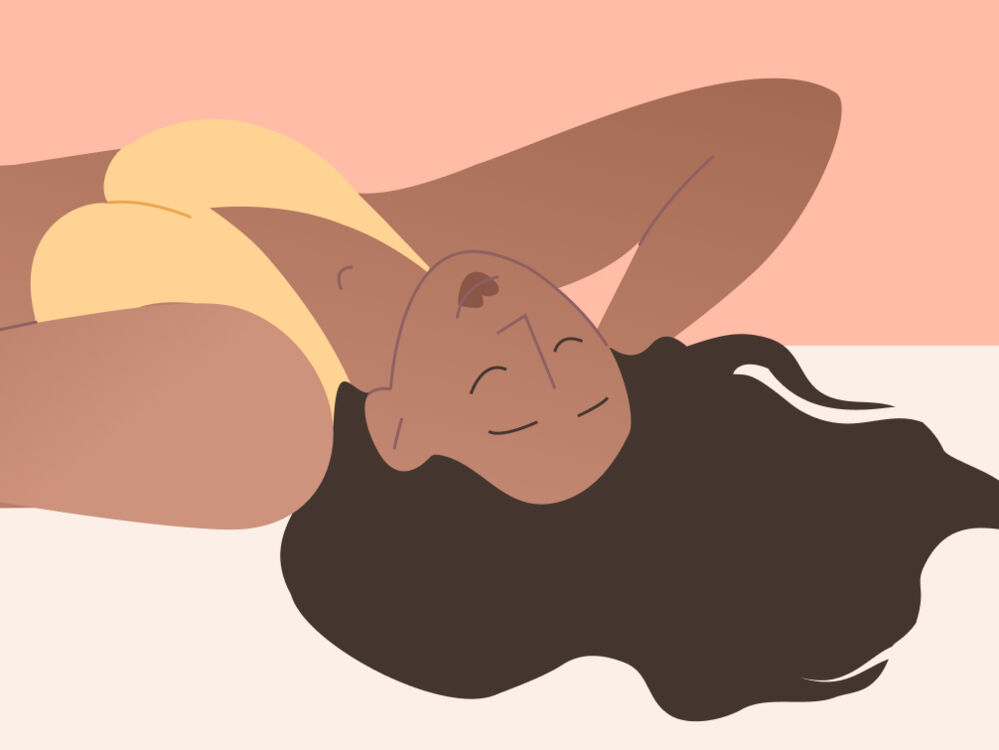 Climax. The big O. Reaching the boil. However you refer to it, the female orgasm is a pretty amazing thing. If you've had one, then you may know that orgasms feel great, but did you know they also have some cool health benefits too? If you feel happier after you've climaxed, that's no coincidence (and we'll explain why below).
If orgasms are a perfectly natural and healthy thing, why is it that many of us never learn about them in health class? Your sex education teacher may have taught you all about birth control and sexually transmitted infections (STIs). They probably touched on male orgasms as a way of getting pregnant. However, when it comes to the female orgasm, there's still some level of mystery and stigma attached.
There's so much to understand about female orgasms, including what happens to your body when you have one and how to reach climax by yourself and with a partner. Here, two Flo experts share everything you need to know. Get ready: Your friends will call you the orgasm oracle by the end of this.
Take a quiz
Find out what you can do with our Health Assistant
What is a female orgasm?
First things first, you might be curious about what an orgasm actually is. And there's a fairly simple top-line answer: It's one of your body's responses to reaching the height of sexual arousal (or being turned on).
"During orgasm, the uterus and muscles of the pelvic floor contract in a rhythmic fashion that is pleasurable for most women," explains Dr. Brandye Wilson-Manigat, obstetrician and gynecologist (OB-GYN), California, US. This can feel like throbbing, twitching, tensing, or spasms in your vagina and anus. "Some women report a sensation of their whole body being involved in the contractions."
Orgasms don't just happen out of the blue. They can feel like a buildup of pleasure and sexual tension. And that's because orgasm is just one part of your body's sexual response cycle. Prepare for some sexy science now; there are different phases when you're feeling frisky.
Desire: Having the urge to be intimate with a partner or alone. Your heart rate might quicken, and the blood flow to your vagina will increase. This pushes

fluid to the surface

of your vaginal walls, giving you the sensation of being wet.

Excitement or feeling turned on: Your heart rate, breathing, and blood pressure will continue to increase, and you might notice that

your clitoris

and

labia (the inner and outer lips of your vulva)

start to feel more sensitive.

Orgasm: This is the big O. The muscles in your vagina, uterus, and anus will contract (it might feel like a squeezing sensation), and you might feel a quick release of sexual tension.

Resolution: This is when your heart rate, blood pressure, and breathing return to normal, and you might notice a warm feeling of well-being or satisfaction.
Did you know that no two orgasms are the same? They can vary in length and intensity (but more on that below).
What happens during female orgasms, and what does it feel like?
Trying to explain what an orgasm feels like to other people can be really tough. We rarely have anything that we can compare our own orgasms to, and like falling in love, people often say you "just know" when you've had one. You might even notice that climaxing feels different to you each time. This is totally typical and healthy.
"Orgasms can feel different, even if you are stimulating the same spot in the same way," says Dr. Wilson-Manigat. "Some are more like a 'fireworks on the Fourth of July' sensation. Your whole body feels like it's at a celebration. Others may feel like a slow burn, giving you a warm, satisfying sensation."
While it might feel like all the action of your orgasm is taking place in your genitals, there's a lot going on in your brain, too. When you orgasm, your brain releases a surge in dopamine, the feel-good hormone. This helps you to recognize what you enjoy and gives you that sense of pleasure. Your brain also releases oxytocin. This is sometimes called the bonding hormone because it triggers a sense of love and attachment.
Sounds pretty amazing, right? This surge in happy hormones is just one reason why reaching the big O is good for you. Keep reading to find out why.
What are the different types of female orgasms?
You might have heard your friends talk about an amazing nipple orgasm or an intense anal orgasm and wondered whether these are different types of orgasms. Here's your answer: This is actually a little bit of a myth. "When people say there are different types of female orgasms, they usually mean which erogenous zone was stimulated for orgasm," explains Dr. Sara Twogood, obstetrician and gynecologist, California, US. "It's not that the orgasm itself is different; it's the way the orgasm is achieved is different."
So let's break that down. If you stimulate different parts of your body, you might reach orgasm. Areas that can help you to orgasm are:
Clitoris: According to a survey published in

the Journal of Sex & Marital Therapy, around 36% of the 1,000 women

they spoke to said they needed some form of clitoral stimulation in order to orgasm. You can see part of your clitoris just above the

opening of your vagina.

It pays to know where your clitoris is, so

you can learn more about yours here.

Vagina: This is when you climax during vaginal penetration. A study found that only

18% of female orgasms

come from vaginal stimulation.

Anus: You might experience an anal orgasm while having the outside of your anus touched.

Erogenous zones:

You have erogenous zones

all over your body. These are places where it feels really good to be touched. Some erogenous zones include your breasts, lips, neck, and thighs.
No matter where you're being touched, if you reach orgasm, your body responds in the same way. But it's so important to remember that there's no "right" type of orgasm — we all experience sexual pleasure in different ways. It's very healthy to explore what you like either on your own or with a partner you trust.
Where does the G-spot come in?
In your conversations about orgasms, you might have heard about the elusive G-spot, or the Grafenberg spot to give it its full name. Did you know that you might be able to feel your own G-spot? It's thought to be inside your vagina on the upper wall. It swells when you're feeling aroused and can feel bumpy, a little bit like a walnut.
Some people believe that you can reach orgasm by stroking and pressing on the G-spot. However, that's still not certain where scientific evidence is concerned. In fact, some research has suggested that the G-spot doesn't even exist and that it's just part of the structure of the clitoris that's inside your body. To learn more about your anatomy and the way your body works, you can download an app like Flo.
There's no denying that the G-spot is a hotly debated topic. But when it comes to getting intimate with a partner or having fun alone, you don't need to worry too much about pleasure politics. If you've found something that makes you feel good, then keep going.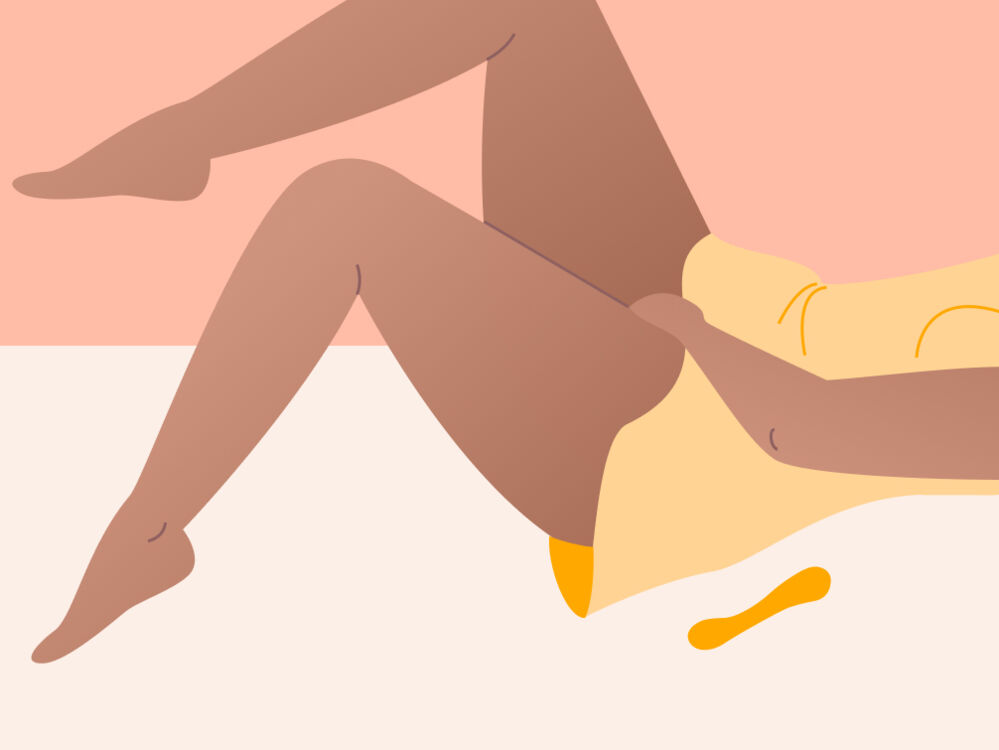 Male vs. female orgasms: How do they differ?
It might feel like it takes you ages to reach climax, whereas your male partners can get there in 30 seconds. But while the timing of orgasms can differ, fundamentally, male and female orgasms are the same. "Both are the release of built-up sexual tension resulting in rhythmic muscle contractions in the pelvic floor," says Dr. Wilson-Manigat.
"It seems to be easier for males to orgasm simply because their penis can be directly stimulated during intercourse, whereas for women, stimulation of the areas on her body that can lead to orgasm is not as easily achieved with [penetrative] intercourse alone," Dr. Wilson-Manigat continues.
One key difference between male and female orgasms is that male orgasms usually involve the ejaculation of semen. Female ejaculation can happen when fluid is released from the Skene's glands, two ducts found on either side of your urethra (the tube connected to your bladder that allows urine to leave your body). This can feel like a trickle of liquid. You might not even notice it's happened.
Another key difference is that female orgasms can come in multiples — one after the other in a short amount of time. "Males have a longer resolution (also known as refractory) period so have longer time between orgasms, whereas females can have consecutive orgasms," explains Dr. Twogood. So while it might take you a little bit more time to get there, in the right situation, you could reach climax after climax. Lucky, right?
How to orgasm
There's no cheat sheet to having an orgasm. The best way to work out what you enjoy and how you might most easily reach climax is by experimenting with masturbation (with your fingers or a sex toy) and by communicating with your sexual partner(s).
"Masturbation is important to learn about your own body, to see what feels good and what movements, textures, vibrations, and pressure the body is responsive to," says Dr. Twogood. "Everyone is different! What is arousing for some people is not for others."
There's a myth that female orgasms are complicated and elusive, but that's not at all true. "Orgasms are not inherently difficult to reach," says Dr. Wilson-Manigat. Here, she gives some tips on how to reach orgasm.
Explore your body. "The first thing you need to know is where to stimulate and spend some time

exploring those areas

. Pay attention to what feels good to you."

Be in the moment. "Orgasm is easier to reach when you are present and in the moment." One way to do this is to

find mindfulness techniques

that work for you. These include practicing breathing exercises, meditation, and body scans.

Try to relax. "You may have the

intention to orgasm

, but don't get so caught up in reaching orgasm that you can't enjoy the buildup of pleasure and excitement. Relax into the sensations and enjoy the journey."
What are the health benefits of female orgasms?
Aside from feeling great, Research has suggested that female orgasms have several health benefits. Win, win! These include:
Easing period cramps

Improving your self-confidence

Improving your sleep quality

Relieving headaches and pain

Reducing your stress levels
So the next time you want to schedule a little date night with yourself, remember it's actually healthy for you, too.
Why some women can't orgasm
Orgasms are a pretty amazing thing, but you won't be the only one if you feel there's pressure for every sexual experience to end in one. It's estimated that 65% of heterosexual women, 66% of bisexual women, and 86% of lesbian women usually or always reach orgasm during sex with a partner. The people who orgasm the most are more likely to receive oral sex, be more satisfied with their relationship, and feel comfortable asking for what they want in the bedroom.
And while it may not be something you feel comfortable speaking about with your friends, they'll likely have experienced not reaching the big O all of the time, too. You might struggle to orgasm for so many reasons, and it's crucial that you don't blame yourself.
One factor could be that you may not be getting the sexual stimulation you need. Problems within your relationship or a previous sexual trauma can play a role in struggling to orgasm. And hormonal changes such as transitioning into menopause can impact your experience in the bedroom. You also might just not orgasm every time you have sex, which is a totally normal thing.
Some medical conditions that impact blood flow and nerve supply to the pelvis can affect your ability to have an orgasm. These include hypertension, coronary artery disease, multiple sclerosis, and spinal cord injury. And certain medications like antidepressants (such as selective serotonin reuptake inhibitors) and blood pressure medications may also make it harder for you to reach orgasm. If you take any medication, you can speak to your doctor about whether it could impact your libido and ability to have an orgasm.
We all deserve a satisfying sex life, so if you're struggling to reach orgasm, then don't be afraid to speak to your doctor. They may ask you questions about any changes in your life and your relationship. They may also pass you on to a specialist (like a sex therapist).
Dr. Wilson-Manigat explains that in some cases, struggling to orgasm can be a sign of female orgasm disorder (it used to be called anorgasmia). "It's characterized by delayed, infrequent, or absent orgasms after sexual arousal," she says — even if you've tried all the things you know you like.
"The cause of female orgasmic disorder is complex, and no single cause has been identified," adds Dr. Wilson-Manigat. "It can be associated with stress, relational issues, depression, anxiety, certain medications, chronic illness, and chronic pain conditions."
What is the orgasm gap?
A term has been coined that refers to the fact that statistically, women have fewer orgasms than men. It's called the "orgasm gap."
"The orgasm gap is a term to describe the difference in orgasm frequency between women and men," says Dr. Wilson-Manigat. "The way I explain it is, for every 10 times a heterosexual couple engages in sexual intercourse, the man will orgasm eight to 10 of those times, while the woman will orgasm four to five of those times. For women in lesbian relationships, the number of orgasms for women will increase to six to eight of those times."
"A common feeling is that sex is over once the male partner has climaxed. That leaves open the question of what happens to the female partner?"
One study revealed that women orgasm around 62% of the time while having sex regularly with a familiar partner. This is compared to 85% of the time for men — but the research into the orgasm gap varies.
"A common feeling is that sex is over once the male partner has climaxed," explains Dr. Twogood. "That leaves open the question of what happens to the female partner if she hasn't climaxed. How is sex over if she still wants to climax?"
A recent study even showed that women who have a harder time reaching orgasm stop prioritizing their sexual pleasure, meaning that they end up having fewer and fewer orgasms. No matter how difficult it is for you to reach orgasm, you deserve a healthy and fulfilling sex life.
Having said that, it's important to know that orgasms are not the be-all and end-all of sexual pleasure. You can still have a positive, satisfying sex life even if you don't orgasm every time or at all. But no one should be made to feel like their sexual enjoyment isn't important. If having orgasms is important to you, you should try to open a conversation with your partner about it.
Can you speak to your doctor if you can't orgasm?
"If you're having trouble climaxing, start with your doctor," recommends Dr. Wilson-Manigat. "They may be able to rule out some of the medical conditions, like hypertension or diabetes, that can affect blood flow and nerve endings to the genital area."
Once you've had an initial chat with your doctor, they may refer you to an OB-GYN. However, not all OB-GYNs will be specially trained to talk to you about pleasure. In this case, it might be best to reach out to a sexual medicine specialist or therapist. They're the real pros at getting to the bottom of what might be holding you back from reaching the big O every time.
Female orgasm: The takeaway
A female orgasm is a pleasurable physical sensation that happens after a buildup of sexual stimulation. There is no one way to reach orgasm, and it can feel different from person to person and even from sexual experience to sexual experience.
Statistically, women and people with a vulva are less likely to orgasm during sex, but this isn't because female orgasms are "difficult" to reach (that's a myth!). Health conditions, stress, and even certain medications can make orgasms more challenging, but you can learn how to orgasm by exploring your body and trying different ways to pleasure yourself.
Orgasms aren't a requirement for a healthy and enjoyable sex life, but it's totally natural to want to get there. If you have trouble reaching orgasm and it's weighing on your mind, you can reach out to your doctor, OB-GYN, or sexual medicine specialist to find a solution.
Written by Olivia Cassano